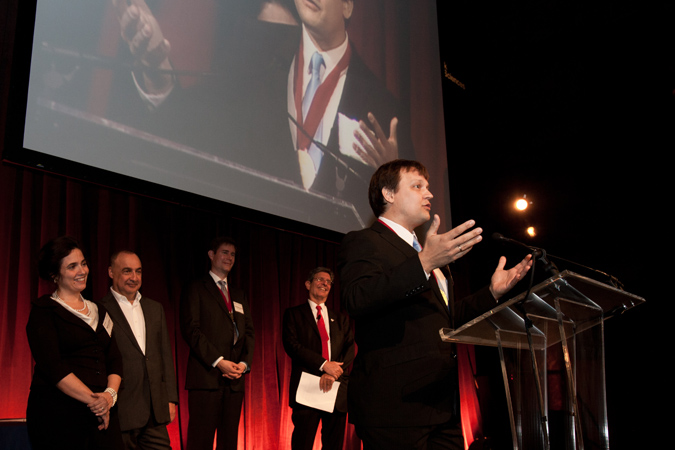 The Blavatnik Family Foundation, with the guidance of the New York Academy of Sciences, founded the Blavatnik Awards for Young Scientists in 2007 to celebrate the innovative achievements of young postdoctoral and faculty scientists who work in New York, New Jersey, or Connecticut. 
Unlike awards that honor scientists late in their careers, the Blavatnik Awards aim to identify and encourage promising young scientists early in their careers, when they are most in need of funding and recognition. The intense competition for funding presents a growing challenge for scientific researchers—those who receive financial support are in a better position to bolster their early research efforts and are more likely to identify solutions to the most complex scientific questions and to some of society's most pressing problems.
In 2013, building on the tremendous success of the Blavatnik Regional Awards, the Blavatnik Family Foundation announced its intention to launch the Blavatnik National Awards for Young Scientists, in which faculty members under the age of 42 from across the United States are nominated in three categories: Chemistry, Physical Sciences and Engineering, and Life Sciences. Eligible institutions are invited to submit one nomination in each subject category. In each category, ten finalists are identified, with one becoming Laureate for that category and winning US$250,000 in unrestricted funds. The Blavatnik National Awards Laureates and finalists are honored at an awards ceremony at the American Museum of Natural History in New York City each September.
The Blavatnik Regional Awards for Young Scientists also continue to identify outstanding post-doctoral researchers in the tri-state area, recognizing two finalists and one winner in Chemistry, Physical Sciences and Engineering, and Life Sciences every year. Blavatnik Regional Awards winners and finalists are honored at the New York Academy of Sciences Annual Gala in November.
Over the course of a decade of Blavatnik Awards for Young Scientists, there have been more than 2000 nominations from over 200 institutions, with Awards totaling more than US$4,000,000 provided to 125 recipients of the Blavatnik National and Regional Awards.
Past winners and finalists of the Blavatnik Awards have gone on to achieve significant career success. Today, most postdoctoral honorees are tenured or tenure-track faculty members, some faculty honorees have become department chairs or deans, and some have gone on to become investigators for the Howard Hughes Medical Institute. Awards and honors garnered by the Blavatnik Awards alumni include the Gates Grand Challenge Award, Guggenheim Fellowship, MacArthur Fellowship, IEEE Computer Science Technical Achievement Award, Vilcek Award, Shaw Prize, and NIH Director's Pioneer Award.
In 2017, the Blavatnik Awards for Young Scientists in the United Kingdom and the Blavatnik Awards for Young Scientists in Israel were launched, with both competitions also identifying outstanding faculty members aged 42 and under across Life Sciences, Physical Sciences & Engineering, and Chemistry in their respective countries. The 2018 Blavatnik Awards will recognize one Laureate and two Finalists each subject in the UK and one Laureate in each subject in Israel.
The Blavatnik Science Scholars community, made up of past honorees, now consists of almost 200 brilliant researchers and encompasses a unique combination of scientists and engineers with a wide range of research interests.  In 2014, the Blavatnik Science Symposium, now held annually in New York, was established to highlight this community and promote the research of these young champions of science.  The symposium features panel discussions, keynote speakers, and research updates from community members.  Relationships established through this platform have led to fruitful collaborations and exposes the scholars to cutting-edge science spanning a variety of fields.