Antonio Giraldez
2007 Regional Award Finalist — Faculty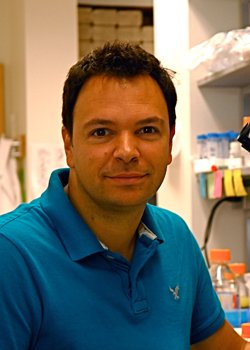 Current Position:
Professor of Genetics
Institution:
Yale University
Discipline:
Genetics & Genomics
Recognized for: Using genetics and genomics to help determine the role of microRNAs during vertebrate development
Areas of Research Interest and Expertise: Developmental biology; non-coding rnas, post-transcriptional regulation; microRNAs; gene regulatory networks; systems biology; zebrafish
Biography:
PhD, Developmental Biology, European Molecular Biology Laboratory, Germany
BS, Chemistry, University Autonoma of Madrid, Spain
Postdoctoral work at New York University School of Medicine and Harvard University
Antonio Giraldez  uses his knowledge of genetics, embryology, genomics, biochemistry and computational biology to address a central question in biology: how does a fertilized egg develop into a complex multicellular embryo?  Micro-RNAs are the smallest genes known, with as few as 22 building blocks or nucleotides. (Most genes average more than 1000 nucleotides.) Unlike most genes that are encoded as DNA and produce proteins, these tiny genes act by controlling much larger messenger RNAs, which carry the protein-making instructions of the DNA.
Since microRNAs provide novel regulatory layer of unknown function with potential widespread implications in development and disease, Giraldezis using zebrafish as a model system to investigate the role of microRNAs during vertebrate development. In 2010, Giraldez made news for discovering apreviously unknown type of molecular scissors that can tailor micro-RNAs. He and his colleagues found that the absence of these molecular scissors, or the micro-RNAs they create, could trigger anemia in zebrafish. More recently his laboratory has also began exploring novel exciting territories in biology, such as how the embryo uses stem cell factors to  initiatethe program of development.He was awarded 2014 Vilcek Prize for Creative Promise in Biomedical Science for his investigations on the role of microRNAs in regulating gene expression which bring us closer to understanding human embryonic development.
"Recent finding have told us that micro-RNAs have deep implications not only in how humans and animals are made, but in the development of human diseases We are still just beginning to scratch the surface in our understanding of small RNAs. With this new molecular scissors, we have another tool to find small RNAs that are important to life, that activate genes in disease, and may be important in developing new therapeutics"

 
Key Publications:


Lee MT, Bonneau AR, Takacs CM, Bazzini AA, DiVito KR, Fleming ES, Giraldez AJ. Nanog, Pou5f1 and SoxB1 activate zygotic gene expression during the maternal-to-zygotic transition. Nature. 2013
Bazzini AA, Lee MT, Giraldez AJ. Ribosome profiling shows that miR-430 reduces translation before causing mRNA decay in zebrafish. Science. 2012
Cifuentes D., Xue H., Taylor D.W., Patnode H., Mishima Y., Cheloufi S., Ma E., Mane S., Hannon G.J., Lawson N.D., Wolfe S.A., and Giraldez A.J. A novel miRNA processing pathway independent of Dicer requires Argonaute2 catalytic activity. Science. 2010
Other Honors:
2014 Vilcek Prize for Creative Promise in Biomedical Science
2008-2012 Pew Scholar in biomedical sciences
2007-2010 Lois E. and Franklin H. Top, Jr., Yale Scholar Award
2007 John Kendrew Young investigator Award EMBL, Heidelberg
2004-2007 HFSP Postdoctoral Fellowship
2003-2004 EMBO Postdoctoral Fellowship
In the Media:
Scientists find clues about autism in nocturnal habits of zebrafish. Yale News. January 28, 2016
Antonio Giraldez receives the 2014 Vilcek Prize for Creative Promise. Vilcek Foundation. April 23, 2014
Yale Team Discovers New Molecular Scissors That Cut the Tiniest Genes. Yale News. May 06, 2010
Micro-RNAs Are Life's Genetic Sculptors, Yale Researchers Find. Yale News. February 25, 2009
Antonio Giraldez: At the tip of the microRNA iceberg. JCB. June 29, 2009