Bi-Sen Ding
2013 Regional Award Finalist — Post-Doc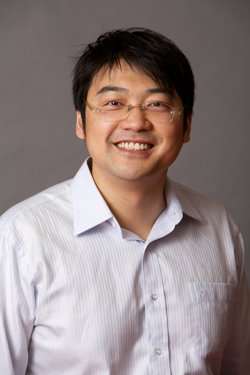 Current Position:
Assistant Professor of Genetic Medicine
Institution:
Weill Cornell Medical College
Discipline:
Physiology
Recognized for: Uncovering a dynamically active role for vascular vessels in the production of growth factors that instruct organ regeneration
Areas of Research Interest and Expertise: Organ regeneration, maladaptive repair and fibrosis, vascular niche and endothelial cell-derived paracrine factor, tumor microenvironment, drug delivery
Biography:
PhD, Pharmacology, University of Pennsylvania
BS, Chemistry, Nanjing University, China
Bi-Sen Ding is broadly interested in understanding the principles of organ regeneration and translating this knowledge into developing therapeutic approaches for organ repair and remodeling. The key questions of his research are: 1) How is organ regeneration initiated upon injury and properly terminated after reaching various "set points"? and 2) How do adult organs regenerate without abnormal healing responses? Ding has identified individual vascular-derived signals that initiate and direct regeneration in the lung and liver. Previously, blood vessel cells were believed to be passive tubes for oxygen and nutrient delivery.
Ding has further demonstrated that chronically injured blood vessels paradoxically lead to tissue fibrosis and tumorigenesis, indicating that a deliberate balance between tissue regeneration and scarring is necessary for functional organ repair. Clinically, Ding's discoveries may have important implications for stem cell transplantation therapies and also new therapeutic approaches using targeted drug delivery to the cells lining the blood vessels.
"The long term goal of my research is to answer a critical question, How is an organ regenerated? To achieve this aim, we have to understand the molecular and cellular mechanism of regeneration. I also hope to devise interdisciplinary therapeutic approaches to induce organ regeneration without causing fibrosis or cancer."
Key Publications:
Ding BS, Nolan DJ, Guo P, Babazadeh AO, Cao Z, Rosenwaks Z, et al. Endothelial-derived angiocrine signals induce and sustain regenerative lung alveolarization. Cell. 2011; 147: 539-553.
Ding BS, Nolan DJ, Butler JM, James D, Babazadeh AO, Rosenwaks Z, et al. Inductive angiocrine signals from sinusoidal endothelium are required for liver regeneration. Nature. 2010; 468(7321): 310-5.
Ding BS, Cao Z, Lis R, Nolan DJ, Guo P, Simons M, Penfold ME, Shido K, Rabbany SY, Rafii S Divergent angiocrine signals from vascular niche balance liver regeneration and fibrosisNature 2014;505(7481):97-102. Epub 2013 Nov 20
Other Honors:
National Scientist Career Development Award, American Heart Association, 2012
Druckenmiller Fellow, The New York Stem Cell Foundation, 2011
In the Media: 
Tumor Blood Vessel Signals Turn Cancer into a Lethal Disease Resistant to Chemotherapy. March 19, 2014