Emily Balskus
2019 National Award Winner — Faculty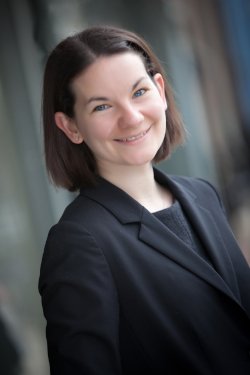 Current Position:
Professor of Chemistry and Chemical Biology
Institution:
Harvard University
Discipline:
Chemical Biology
Recognized for: Transformative work identifying the novel chemistry of the gut microbiome and deciphering its role in human health and disease.
Areas of Research Interest and Expertise: Chemical Biology, Enzymology, Microbiology, Biochemistry
Biography:
Postdoctoral Fellow, Biochemistry, Harvard Medical School
PhD, Organic Chemistry, Harvard University
MPhil, University of Cambridge, UK
BA, Williams College
Prof. Balskus is making revolutionary advances at the interface of chemistry, enzymology and microbiology. The overarching goal of her interdisciplinary research program is to discover, understand and manipulate gut microbial metabolism. Understanding microbial metabolism at a molecular level is essential as the metabolic functions of these organisms can influence human health and provide us with new targets for the development of therapeutics that target the microbiome.
Shockingly little is known about how microbial communities in the human body can affect health and cause disease. While advances in DNA sequencing have helped in identifying microbes, enormous gaps still exist in our knowledge of gut microbial functions. This limits progress towards preventing and treating conditions like colorectal cancer and inflammatory bowel disease. Prof. Balskus has fundamentally changed the way the microbiome is studied by applying the tools and perspective of a chemist, and her work is helping to close this knowledge gap.
One signature achievement is the elucidation of the mechanism by which bacterial toxins called colibactins are made by the gut microbiome. A colibactin is a genotoxin (a substance that causes DNA damage) produced in the gut by certain strains of E. coli that has been implicated in colorectal cancer. Prior to Prof. Balskus' work, the structure, biosynthesis and activity of this toxin was unknown but her discoveries from studying the mechanism by which E. coli build colibactin and how it interacts with human cell DNA represent a significant advance towards the development of new strategies for prevention and diagnosis of colorectal cancer.
"An amazing teacher introduced me to chemistry in high school. I was initially captivated by the excitement of manipulating molecules in the lab. As my scientific career progressed, I became fascinated by the chemistry occurring within living organisms. I'm drawn to microbes because of the huge gaps in our understanding of how they affect human health, and I hope that my lab's research will someday lead to new therapeutics."
Key Publications:
Other Honors:
2018 The SN10: Scientists to Watch, Science News
2018 Arthur C. Cope Scholar Award, American Chemical Society
2016 HHMI-Gates Faculty Scholar, Bill and Melinda Gates Foundation
2016 Hirata Award, Nagoya University and the Hirata Foundation
2015 Innovators Under 35, MIT Technology Review
2015 Camille Dreyfus Teacher-Scholar Award, Camille and Henry Dreyfus Foundation
2015 NSF CAREER Award, National Science Foundation
2013 Packard Fellowship for Science and Engineering, David and Lucile Packard Foundation
2013 Kavli Fellow, National Academy of Sciences
2012 NIH Director's New Innovator Award, NIH
In the Media:
STAT - "Harnessing the amazing work of the 40 trillion chemists in your gut microbiome."
Science News - "Emily Balskus uses Chemical logic to study the microbiome"
C&E News – "Microbe maven is exploring the chemistry of our bodies' bacteria"
The Scientist – "Emily Balskus pins down the chemistry and metabolism of human microbiomes"
Harvard Gazette – "Gut details: Researchers' enzyme advance could help to unlock mysteries of health"
UCSF News – "Gut bacteria produce a special enzyme to protect us from plant toxins"
Science Daily – "Study examines how compound damaged DNA to understand its connection to cancer"
Science Daily – "How microbes produce key compound used to fight cancer"