Geoffrey Coates
2008 Regional Award Finalist — Faculty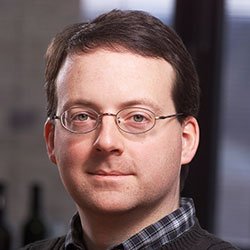 Current Position:
Professor, Chemistry & Chemical Biology
Institution:
Cornell University
Discipline:
Organic Chemistry
Recognized for:The development of new synthetic strategies for producing new polymeric materials
Areas of research interest and expertise: Organic Chemistry, Organometallic Chemistry, Inorganic Chemistry, Polymer Chemistry
Biography:
PhD, Organic Chemistry, Stanford University, Palo Alto, CA
BA, Chemistry, Wabash College, Crawfordsville, IN
Geoffrey Coates' research concentrates on developing new methods for reacting commodity feedstocks in unprecedented ways. His mentor Dr. Robert Grubbs, 2005 Nobel Prize Laureate in Chemistry, praises Dr. Coates for contributions ranging "from the development of catalysts that control polypropylene stereochemistry to the understanding of metathesis catalysis for the modification of polymers."
The research focus of the Coates Group is the development of new catalysts for the synthesis of macromolecules as well as small molecules. Dr. Coates' current research centers on the development of homogeneous catalysts for olefin polymerization, heterocycle carbonylation, epoxide homo- and copolymerization, and the utilization of carbon dioxide in polymer synthesis.    
Dr. Coates is the scientific cofounder of Novomer Inc., where he is currently the Chairman of the Scientific Advisory Board. Novomer is an emerging sustainable chemistry company commercializing a family of high performance, cost effective, environmentally responsible polymers and chemicals based on proprietary catalyst technology.
In 2011 Dr. Coates was identified by Thomson Reuters as one of the world's top 100 chemists on the basis of the impact of his scientific research.
"The primary long-term goal of our research is the discovery, improvement, and application of catalysts for the precision synthesis of small molecules and polymers for the betterment of society."
Key Publications:
B. T. Whiting, G.W. Coates, Multistep Synthesis of Cyclic Polyketals by Catalytic Isomerization of Epoxide-Ketones to Bicyclic Ketals and Subsequent Ring-Opening Polymerization,J. Am. Chem. Soc. 2013
M. F. Mulzer, B. T. Whiting, G. W. Coates, Regioselective Carbonylation of trans-1,2-Disubstituted Epoxides to β-Lactones: A Viable Entry into Aldol-Type Products,J. Am. Chem. Soc., 2012
J. T. Noonan K., K. M. Hugar, H. A. Kostalik IV, E. B. Lobkovsky, H. D. Abruña, G. W. Coates, Phosphonium Functionalized Polyethylene: A New Class of Base Stable Alkaline Anion Exchange Membranes,J. Am. Chem. Soc. 2012
Other Honors:

2015    Award in Applied Polymer Chemistry, American Chemical Society
2012    Presidential Green Chemistry Challenge Award
2012    DSM Performance Materials Award
2011    Election to American Academy of Arts & Sciences
2011    World's Top 100 Chemists, 2000-2010, Thomson Reuters    
2009    Carl S. Marvel Creative Polymer Chemistry Award, American Chemical Society
2009    Award for Affordable Green Chemistry, American Chemical Society
2008    New York Academy of Sciences, Blavatnik Award Finalist
2008    NYSTAR Faculty Development Award
2007    New York Academy of Sciences, Blavatnik Award Finalist
2006    American Association for the Advancement of Science Fellow
2006    Stephen and Margery Russell Distinguished Teaching Award
2005    NSF Special Creativity Award
2001    Arthur C. Cope Scholar Award
2001    Akron Section Award, American Chemical Society
2000    David and Lucile Packard Foundation Fellowship in Science and Engineering
2000    Camille Dreyfus Teacher-Scholar Award
2000    Arnold and Mabel Beckman Foundation, Young Investigator Award
1999    Alfred P. Sloan Research Fellow
1999    A.K. Doolittle Award, American Chemical Society
1999    CAREER Award, National Science Foundation
1999    MIT Technology Review Award
1998    Research Corporation Innovation Award
1997    Camille and Henry Dreyfus New Faculty Award

In the Media:
Coates group chemistry featured in C&EN Year in Review, C&EN, January 6, 2015
Coates, McLafferty win national chemistry awards. Cornell Chronicle. Aug. 14, 2014