Kathy Niakan
2019 United Kingdom Award Finalist — Faculty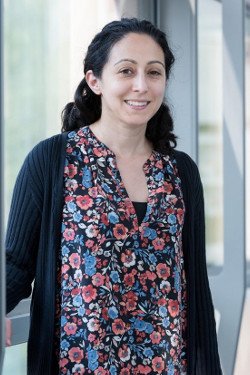 Current Position:
Group Leader
Institution:
The Francis Crick Institute
Discipline:
Developmental Biology
Recognized for: Pioneering research in human embryonic development, and blazing a trail to obtain regulatory approval to perform research involving genome-editing in human embryos.
Areas of Research Interest and Expertise: Genome-Editing, Embryology, Developmental Biology, Stem Cells, Science Policy
Biography:
BSc, BA, University of Washington, USA
PhD, University of California, Los Angeles, USA (Advisor: Prof. Edward McCabe)
Postdoctoral Fellow, Harvard University, USA (Advisor: Prof. Kevin Eggan)
Next Generation Fellow, University of Cambridge
Dr. Kathy Niakan investigates how embryonic cells determine which type of cell they will become. At the very beginning of embryonic development, most of the earliest cells develop into extra-embryonic cells, becoming the placenta and supporting tissues. A few cells, however, take a different route: they become embryonic epiblast cells, which are pluripotent - able to develop into any type of cell in the body. Dr. Niakan and her team seek to determine the factors that influence this choice: how are these early pluripotent cells established? How do they remain pluripotent? And how is this process turned off when cells specialize to become a particular organ like skin, heart, or brain? By characterizing changes in gene expression in early embryonic development, Dr. Niakan uncovered proteins and pathways crucial for normal development. Further, by comparing gene expression patterns between mice and humans, she discovered significant differences between the species, highlighting the need for research in human embryos. In 2016, Dr. Niakan became the first person in the world to obtain national regulatory approval to use genome-editing technologies for direct research in human embryos.
Since this landmark accomplishment, Dr. Niakan has made fundamental discoveries about human embryonic development. Additionally, through long-standing collaborations, Dr. Niakan has developed novel techniques for using mitochondrial replacement therapy to treat disease, and her work influenced the decision of the UK Parliament to approve the clinical use of these methods. The developmental processes studied by Dr. Niakan are crucial to our understanding of human biology. Her research will improve the clinical treatment of infertility and developmental disorders, and her advocacy is informing the ethical use of stem cells in research and medicine.
"I am honored and thrilled to be a Finalist for the Blavatnik Awards for Young Scientists in the UK. It is a tremendous recognition of not only the research conducted in the lab, but also the rigorous ethical and regulatory oversight with which we conduct research in the UK. This is an area of research that has great potential to offer new knowledge of the biological processes at work in the first seven days of human embryo development. Our studies are the first steps to understanding which key genes human embryos need to develop successfully and this knowledge may in turn lead to improvements in IVF treatment and increase our understanding of some causes of pregnancy failure. This sensitive research area has huge potential, so it is crucial that we proceed cautiously. By working transparently, under regulations developed through public consultation, we hope to show that this research can be done ethically and responsibly."
Key Publications:
N.M.E. Fogarty, A. McCarthy, K.E. Snijders, B.E. Powell, N. Kubikova, P. Blakeley, R. Lea, K. Elder, S.E. Wamaitha, D. Kim, V. Maciulyte, J. Kleinjung, J.-S. Kim, D. Wells, L. Vallier, A. Bertero, J.M.A. Turner, K.K. Niakan. Genome editing reveals a role for OCT4 in human embryogenesis. Nature, 2017.
L.A. Hyslop, P. Blakeley, L. Craven, J. Richardson, N.M.E. Fogarty, E.Fragouli, M. Lamb, S.E. Wamaitha, N. Prathalingam, Q. Zhang, H. O'Keefe, Y.Takeda, L. Arizzi, S. Alfarawati, H.A. Tuppen, L. Irving, D. Kalleas, M. Choudhary, D. Wells, A.P. Murdoch, D.M. Turnbull, K.K. Niakan, M. Herbert. Towards clinical application of pronuclear transfer to prevent mitochondrial DNA disease. Nature, 2016.
S.E. Wamaitha, I. del Valle, L.T.Y. Cho, Y. Wei, N.M.E. Fogarty, P. Blakeley, R.I. Sherwood, H. Ji, K.K. Niakan. Gata6 potently initiates reprograming of pluripotent and differentiated cells to extraembryonic endoderm stem cells. Genes & Development, 2015.
P. Blakeley, N.M. Fogarty, I. Del Valle, S.E. Wamaitha, T.X. Hu, K. Elder, P. Snell, L. Christie, P. Robson and K.K. Niakan. Defining the three cell lineages of the human blastocyst by single-cell RNA-seq. Development, 2015.
Other Honors:
| | |
| --- | --- |
| 2018 | Human Fertilization and Embryology Authority (HFEA) original license made part of permanent collection, Science Museum London |
| 2017 | Named a "Rising Star", The Guardian |
| 2016-2018 | Research equipment featured on "Who am I?" exhibit, Science Museum London |
| 2016 | Named one of the "100 Most Influential People", TIME Magazine |
| 2016 | Named one of the "Ones to Watch" Nature |
| 2016 | Named one of the "Most Influential People in Medicine", The Evening Standard |
| 2016 | Granted HFEA license for genome-editing in human embryos, the first such license to be issued by any government agency |
In the Media:
Nature - CRISPR used to peer into human embryos' first days
BBC News - UK scientists edit DNA of human embryo
The Guardian - DNA editing in human embryos reveals role of fertility 'master gene'
NPR - Editing embryo DNA yields clues about early human development
New Scientist - Why has a UK team genetically edited human embryos?