Rachel Perry
2016 Regional Award Finalist — Post-Doc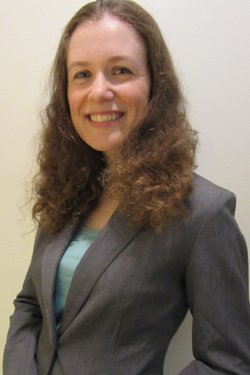 Current Position:
Postdoctoral Fellow
Institution:
Yale University
Discipline:
Biomedical Engineering & Biotechnology
Recognized for: Developing methodologies and uncovering mechanisms driving insulin resistance in animal models of diabetes
Areas of Research Interest and Expertise:  In vivo physiology, metabolism, tracer methodology
Biography:
PhD, Cellular & Molecular Physiology, Yale University 
BS, Biomedical Engineering, Yale University 
Dr. Perry is an expert in the use of tracer methodology to model in vivo physiology.  She developed a novel NMR/LC-MS/MS flux method to model all key liver-specific oxidative and anaplerotic flux rates in awake rodents. Dr. Perry's studies have generated key observations explaining the pathogenesis of diabetic ketoacidosis and the ability of insulin to suppress gluconeogenesis in rodents and humans, linking both phenomena to alterations in lipolysis and hepatic acetyl CoA content. She applied this method to demonstrate the mechanisms of action of two novel mitochondrial uncoupling agents which she found burned liver fat and resolved both type 2 diabetes and non-alcoholic steatohepatitis in rodents.
Dr. Perry's recent work has focused on identification of a mechanism by which the gut microbiota drive the metabolic syndrome in rodents by increasing acetate turnover, parasympathetic activity, hyperinsulinemia, hyperphagia, and obesity. She is embarking on a project seeking to understand how changes in oxidative fluxes in tumors may explain the effect of insulin resistance and hyperinsulinemia to promote tumor growth in certain cancers.
Dr. Perry's long-term goal is to direct a laboratory investigating the role of changes in glycolytic and oxidative flux rates due to hyperinsulinemia and/or inflammation in driving tumor pathogenesis.
"The goal of my research is to develop state-of-the-art methods to measure rates of metabolic pathways in liver that are dysregulated in diabetes. Using these methods, we aim to uncover new insights into the pathogenesis of, and potential treatments for, the epidemics of obesity and diabetes and their associated conditions, including cardiovascular disease, stroke, and cancer."
Key Publications: