Rachel Wilson
2014 National Award Winner — Faculty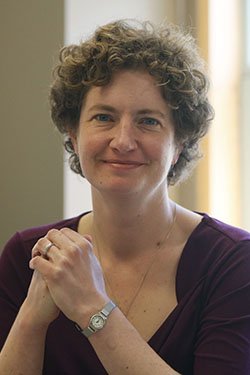 Current Position:
Professor of Neurobiology
Institution:
Harvard University
Discipline:
Neuroscience
Recognized for: Groundbreaking research on sensory processing and neural circuitry in the fruit fly
Areas of Research Interest and Expertise: neuroscience, electrophysiology, neural coding
Biography:
PhD, Neuroscience, University of California, San Francisco
AB, Chemistry, Harvard College
Rachel Wilson earned an AB in chemistry from Harvard and a PhD in neuroscience from the University of California, San Francisco. She did postdoctoral training at Caltech before joining the faculty of the Department of Neurobiology at Harvard Medical School in 2004. Her laboratory uses a combination of genetic, physiological, and behavioral approaches to investigate how sensory stimuli are processed by neural circuits. She co-directs the Harvard Medical School graduate course in neural circuit analysis, and has served as Associate Director of the Harvard PhD Program in Neuroscience.
Her work in advising junior scientists in the classroom and the laboratory was recently recognized by a Young Mentor Award from Harvard Medical School. Dr. Wilson received a MacArthur Fellowship in 2008. In 2010 she received the Young Investigator Award for the Society for Neuroscience. In 2013 she became an Investigator of the Howard Hughes Medical Institute, and in 2014 she was elected as a member of the American Academy of Arts and Sciences.
"What drives me is similar to what drives most scientists. I'm driven by curiosity. I'm also driven by a desire to create some sort of story -- a framework, a set of rules or principles -- something that might help me understand how seemingly unrelated things in the world might actually fit together. My goal is to make a lasting contribution, however tiny, and I want to feel proud of that contribution."
Key Publications:
Other Honors:

MacArthur Fellowship Award
Young Investigator Award, Society for Neuroscience
Eppendorf & Science Prize for Neurobiology
In the Media:

SiriusXM interview with 2014 Blavatnik National Laureates Rachel Wilson, Marin Soljačić, and Adam Cohen. Sept. 17, 2014
What do you wish you had known before you started your lab? HHMI Bulletin. May 2011
Wired for Smell. HHMI Bulletin. May 2011
An Interview with Rachel Wilson. Lab Manager. September 17, 2008