Rosemary Cater
2022 Regional Award Finalist — Post-Doc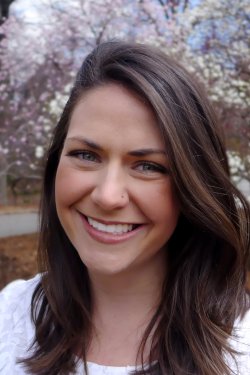 Current Position:
Postdoctoral Research Scientist
Institution:
Columbia University
Discipline:
Structural & Cellular Biology
Recognized for: Revealing how omega-3 fatty acids cross the blood-brain barrier (BBB) and creating new possibilities for delivering neurotherapeutics into the brain. The BBB is a highly-selective layer of cells that protects the central nervous system from damage, but also blocks the vast majority of potential neurotherapeutic drugs from accessing the brain. Structural biologist, Rosemary Cater is the first to identify the molecular structure of a key protein that transports omega-3 fatty acids across the BBB, and in so doing, provides a template to design drugs that mimic those biomolecules to access the brain. She has also unveiled how other proteins in the brain can serve multiple roles at once to control neurotransmission. Her work opens a host of new possibilities for drugs and treatments targeting neurological disorders.
Areas of Research Interest and Expertise: Structural Biology, Biophysics, Pharmacology, Membrane Transport
Previous Positions: 
BSc (Advanced), University of Sydney
Honours Degree, University of Sydney
PhD, University of Sydney (Advisors: Renae Ryan and Robert Vandenberg)
Research Summary: 
The brain is surrounded by a highly selective layer of cells known as the blood-brain barrier (BBB). This barrier prevents most molecules from accessing the brain – only certain molecules, such as oxygen, fats, and glucose, can cross. While this BBB exists to protect the brain from toxins, it also blocks the passage of nearly all neurotherapeutics and drugs that would otherwise be promising treatments for combatting neurological disease. Rosemary Cater, PhD, uses a Nobel Prize-winning technology called cryo-electron microscopy to reveal the atomic structure of proteins called "transporters", which shuttle specific metabolites across the BBB.
Cater has focused much of her attention on understanding how a specific transporter allows omega-3 fatty acids to be shuttled across the BBB into the brain, where they are required for healthy nervous system function. She was the first to determine the structure of this omega-3 fatty acid transporter at an atomic level which now serves as a template to design drugs that mimic these natural substrates to cross the BBB. In her previous work, Cater has also resolved an enduring mystery – namely, how a particular protein can transport both neurotransmitters and chloride ions into neurons, providing unforeseen biophysical insights into how one protein can perform multiple functions.
Through her groundbreaking research, her leadership in large collaborations, and her skills in teaching and outreach, Cater has positioned herself as a rising star in structural biology. She is already shaping her field and opening new methods for treatment of neurological disorders, and will surely be an impactful researcher far into the future.
We have revealed molecular details of how omega-3 fatty acids are transported across the blood-brain barrier. This has provided crucial information to develop drugs that hijack this system to cross this barrier, and thereby overcome a major bottleneck in neurotherapeutic development.
Key Publications: 
Other Honors: 
| | |
| --- | --- |
| 2020 | Robin Anders Young Investigator Award, Lorne Proteins |
| 2018 | Simons Society Junior Fellowship, Simons Foundation |
| 2017 | Bercovici Prize for Best Student Paper, Bosch Institute, University of Sydney |
| 2016 | Best Student Paper Prize, Australian Physiological Society |
| 2015 | Travel Award, Gordon Research Conference – Mechanisms of Membrane Transport |
| 2015 | Travel Award for Young Scientists, International Union for Pure and Applied Biophysics Congress, Australian Society for Biophysics |
| 2013 | John A. Lamberton Scholarship, University of Sydney |
| 2013 | Australian Postgraduate Award, Commonwealth of Australia |
| 2012 | The University of Sydney Medal |
In the Media:
Genetic Engineering & Biotechnology News – Omega-3 Transporter Could Ferry Drugs across the Blood-Brain Barrier
Technology Networks – Omega-3 Fatty Acids May Hold Key to Unlocking Blood-Brain Barrier