Samie Jaffrey
2013 Regional Award Winner — Faculty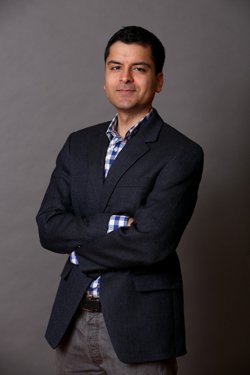 Current Position:
Professor of Pharmacology
Institution:
Weill Cornell Medical College
Discipline:
Chemical Biology
Recognized for: Redefining our understanding of RNA regulation by uncovering mechanisms that control mRNA trafficking during brain development
Areas of Research Interest and Expertise:  Chemical biology, neuroscience, pharmacology
 
Biography:
PhD, Neuroscience, Johns Hopkins University
MD, Medicine, Johns Hopkins University
Samie Jaffrey is interested in understanding the molecular signaling pathways that underlie axon guidance and circuit formation in the brain. Specific mRNAs encoding proteins allow for key processes to occur during different stages of neural circuit formation. Jaffrey recently reported that mRNA is not only composed of AUGCs, but also of methyl-A. Previously, mRNA was not known to undergo methylation like proteins do. Jaffrey found that adenosine residues undergo reversible methylation and that defects in this process are linked to FTO, an obesity risk gene.
Jaffrey and his group have also introduced a method that allows researchers to visualize specific mRNAs in living cells. This strategy relies on a specific RNA sequence, or aptamer, to activate the fluorescence in an otherwise nonfluorescent small molecule. The Jaffrey laboratory recently created a class of RNA mimics of green fluorescent protein, which consist of a specific RNA aptamer and a small molecule dye whose fluorescence is switched on upon binding the RNA. Jaffrey's group is working on RNA-fluorophore complexes with novel spectral properties for studying RNA trafficking and for developing tools to image RNA processing events in living cells.
"The next generation of scientists will need to be able to clearly communicate the relevance of their work to the general public; and will also need to be comfortable with entrepreneurship, patents, and technology licensing, in order to ensure that their discoveries make a difference in people's lives."
Key Publications:
Paige, J.S., Wu, K.Y., Jaffrey, S.R. RNA mimics of green fluorescent protein, Science, 333:642-646, 2011. 
Paige, J.S., Nguyen-Duc, T., Song, W., Jaffrey, S.R. Fluorescence imaging of cellular metabolites with RNAs, Science, 335:1194, 2012.
Colak, D., Ji, S.-J., Porse, B.T., Jaffrey, S.R.  Regulation of axon guidance by compartmentalized nonsense mediated mRNA decay. Cell, 6:1252-1265, 2013
Other Honors:
ASBMB Young Investigator Award, 2014
NIH Director's Transformative Research Award (R01), 2009
Essel Investigator Award, 2003
In the Media:
Vitamin May Prevent Noise-Induced Hearing Loss. Drug Discovery & Development. December 3, 2014
The author file: Samie Jaffrey. Nature Methods. 2013