Valerie Tornini
2023 Regional Award Finalist — Post-Doc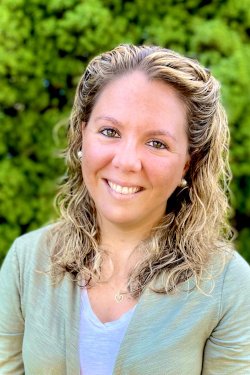 Current Position:
Associate Research Scientist
Institution:
Yale University
Discipline:
Developmental Biology
Recognized for: Identifying roles for novel micropeptides hidden in the vertebrate genome and chromatin regulators that tell early brain cells which kind of cell to become, to then regulate the behavior of the whole organism. Tornini showed that these micropeptides and chromatin regulators have crucial roles in early neurodevelopment using zebrafish models. Furthermore, Tornini identified links between mutations in chromatin modifier genes, the resulting behaviors, and autism, informing our understanding of how to therapeutically manipulate these behaviors to treat developmental disorders.
Areas of Research Interest and Expertise: developmental biology, molecular biology, micropeptides, cell identity, gene regulation
Previous Positions:
AB, Duke University
BS, Duke University
PhD, Duke University (Advisor: Kenneth D. Poss)
Postdoctoral Fellow, Yale University (Advisor: Antonio J. Giraldez)
Future Positions:
Assistant Professor, University of California, Los Angeles (starts July 2024)
Research Summary:
While most of the vertebrate genome gets transcribed from DNA into RNA, only a small fraction of that RNA is used to make functional proteins. However, some of that RNA contains small hidden features that encode for small proteins called micropeptides, which were previously unidentified because of their small size. Developmental biologist, Valerie Tornini, PhD has been instrumental in characterizing the function of some of these micropeptides during early development. Using a zebrafish model, Tornini developed a screen to identify micropeptides with a functional role during brain development by observing and quantifying behavioral changes in the fish.
She then adapted the screen to identify genes that make proteins responsible for modifying chromatin, the mixture of protein and DNA that makes up chromosomes, to regulate gene expression programs during early brain development. Using these approaches, Tornini has identified both micropeptides and chromatin modifying proteins that help early cells decide what kind of cell to become, directly influencing zebrafish behavior. Some of these genes are linked to Autism Spectrum Disorders (ASD). Through this work, Tornini has also shed light on the evolutionary origins of some of these risk genes for ASD, a crucial step in our understanding of the influence of mutations in these genes in both fish and human development.
Finally, as these genes can be linked to specific behaviors and cellular pathways, Tornini's work has provided a foundation for future studies designed to target these pathways and manipulate the corresponding behaviors as a possible therapy for some developmental disorders.
"I aim to identify molecular players that have evolved to regulate vertebrate cell specification and specialization. This recognition is a testament to the extraordinary mentors, communities, and environments that have supported this work and vision."
Key Publications:
V.A. Tornini*, L. Miao, H-J. Lee, T. Gerson, S. Dube, V.J. Schmidt, F. Kroll, Y. Tang, K. Du, M. Kuchroo, C.E. Vejnar, A.A, Bazzini, S. Krishnaswamy, J. Rihel*, A.J. Giraldez*. linc-mipep and linc-wrb encode micropeptides that regulate chromatin accessibility in vertebrate-specific cell types. eLife, 2023.
*Denotes co-corresponding authors
Other Honors:
| | |
| --- | --- |
| 2023 | Yale Mentoring Award, Yale University |
| 2023 | Paul T. Englund Emerging Scholar Award, Johns Hopkins School of Medicine |
| 2022 | Grass Foundation Achievement Award |
| 2022 | K99/R00 Pathway to Independence Awardee (NICHD) |
| 2021 | Cornell Rising Star, Cornell University |
| 2021 | Dr. Eddie Méndez Scholar Award, Fred Hutchinson Cancer Research Center |
| 2020 | Leading Edge Symposium Fellow |
| 2018 | Hartwell Foundation Postdoctoral Fellowship |
| 2015 | Jo Rae Wright Fellowship for Outstanding Women in Science, Duke University |
| 2012 | National Science Foundation (NSF) Graduate Research Fellow |
In the Media:
International Zebrafish Society – Meet the researcher
Charlas Científicas – Desarollo, autismo y genética y estudiar en Estados Unidos.