Wei Min
2012 Regional Award Finalist — Faculty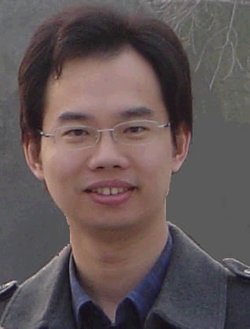 Current Position:
Associate Professor, Department of Chemistry
Institution:
Columbia University
Discipline:
Physical Chemistry
Recognized for: Opening new directions in bio-imaging and significantly pushing forward the frontier of the field; developing bioorthogonal nonlinear Raman imaging and molecular-switch mediated fluorescence microscopy  
Areas of Research Interest and Expertise: Developing next-generation fluorescence microscopy with new functionalities of molecular switches and stimulated Raman scattering imaging of non-fluorescent small molecules such as metabolites
Biography:
PhD, Chemistry, Harvard University B.S.
BS, Chemistry, Peking University
Wei Min's research focuses on biophotonics - one of the fastest growing fields at the interface of physical science and life science.
During his postdoctoral period at Harvard, Dr. Min developed a cutting-edge optical imaging method, stimulated Raman scattering (SRS) microscopy that has the ability to visualize small molecule metabolites and drugs in living cells and tissues with high sensitivity and specificity without staining or labeling. Since the publication of his work in Science in 2008, it has generated excitement ranging from microscope manufacturers, pharmaceutical companies, to academic professors.
By coupling bioorthogonal tags or stable isotopes with SRS microscopy, Dr. Min and his team recently developed bioorthogonal nonlinear Raman imaging to track a broad range of small bio-molecules such as metabolites. The method is significant in that it enables scientists to create high-resolution images of protein synthesis, protein degradation, DNA replication, RNA turnover, drug distribution, choline metabolism and glucose uptake in living cells, tissues and animals.
In 2011, Wei Min joined Kavli Institute for Brain Science of Columbia University. He is also an Editorial Board Member of the Journal of Chemical Science and Technology.
Dr. Min and his team will continue to develop innovative optical spectroscopy and imaging techniques and apply them to tackle compelling questions in biomedicine.
Key Publications:
L. Wei, F. Hu, Y. Shen, Z. Chen, Y. Yu, C. Lin, M. Wang and W. Min.Live-cell imaging with alkyne-tagged small biomolecules by stimluated Raman Scattering. Nature Methods. 2014
Min W, Freudiger CW, Lu S, Xie XS. Coherent nonlinear optical imaging: Beyond fluorescence microscopy. Annu. Rev. Phys. Chem. 2011
L. Wei, Y. Yu, Y. Shen, W. C. Wang and W. Min. Vibrational imaging of newly synthesized proteins in live cells by stimulated Raman scattering microscopy. Proc. Natl. Acad. Sci. 2013
Other Honors:
2014 George Fraenkel Fund Award
2013 Alfred P. Sloan Research Fellowship
2012 National Institute of Health (NIH) Director's New Innovator Award
2012 Young Investigator in Analytical and Bioanalytical Science
In the Media:
Watching the production of new proteins in live cells. Columbia University. August 26, 2013
Imaging dynamics of small biomolecules inside live cells. Phys.org. Mar 02, 2014