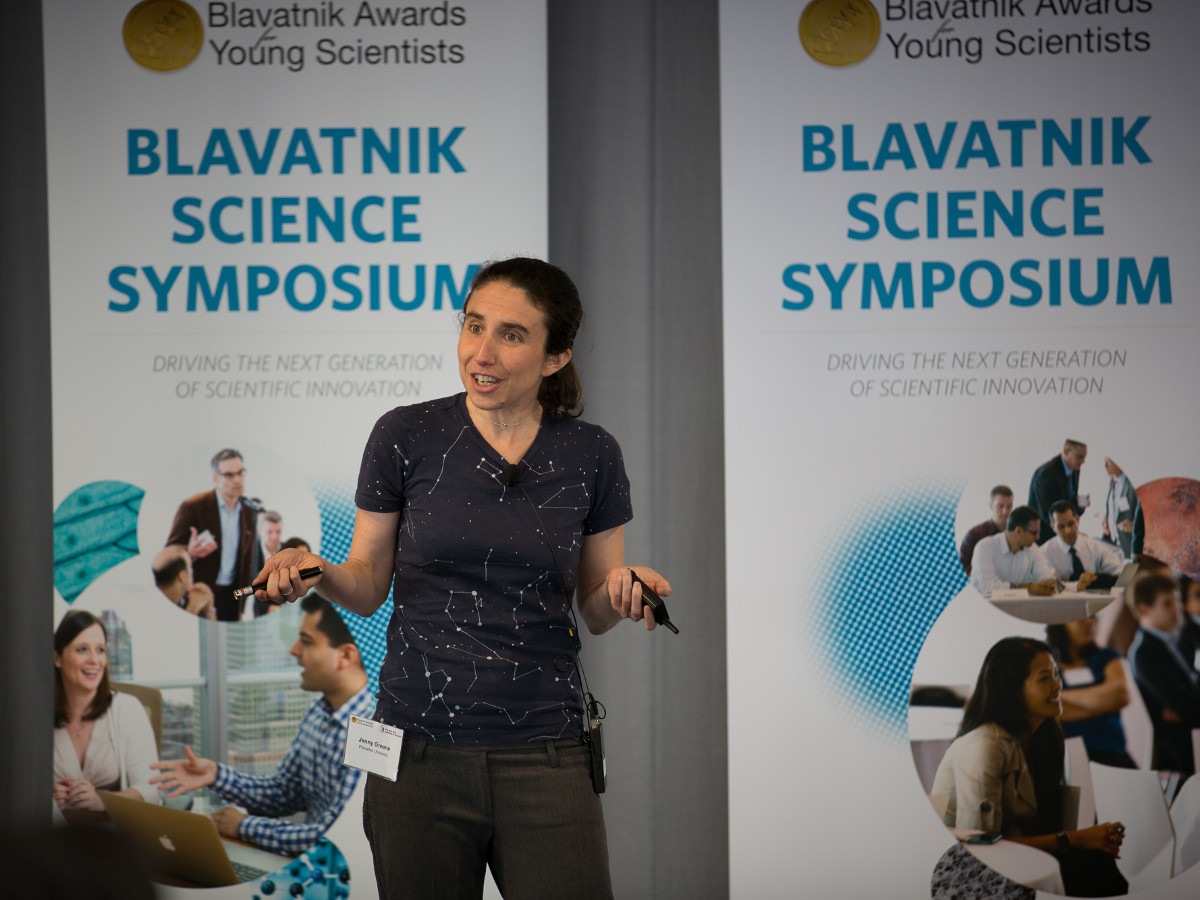 The third annual Blavatnik Science Symposium took place on July 18 and 19, 2016 at the New York Academy of Sciences. This unique two-day event was hosted by the Blavatnik Family Foundation and the Academy and convened more than 50 past Blavatnik Awards honorees and the 2016 National Finalists. The Symposium was attended by representatives of the Blavatnik Family Foundation, scientific luminaries, and members of the press.
The Blavatnik Science Symposium has become a key event in the calendar for the highly interdisciplinary Blavatnik Awards community, bringing winners and finalists together for two days of research updates, panel discussions and networking. The Symposium enables outstanding scientists from diverse subject areas to come together and share ideas, and has resulted in some unexpected but highly productive collaborations between participants in previous years.
Ellis Rubinstein, President and CEO of the Academy, and Brooke Grindlinger, Chief Scientific Officer for Scientific Programs and Awards, began day one of the event with their welcoming remarks. They were followed with an alumni keynote address from 2015 Blavatnik National Award chemistry Laureate Christopher Chang, from the University of California, Berkeley, who spoke about his work on the unique properties of transition metals in relation to human brain research. The second keynote, on day two, focused on the human speech cortex, and was given by 2015 Blavatnik National Award life sciences Laureate Edward Chang, from the University of California, San Francisco.
Attendees had ample opportunity to network with each other and present their work in front of their peers. A number of participants gave brief talks highlighting their most recent research accomplishments in a broad variety of subject areas across all three disciplines of the Blavatnik Awards Program. A special session featured 2015 Blavatnik Regional Award honorees, who, having been recognized for their stellar postdoctoral work, have received faculty appointments in leading universities and labs in the US and Europe.
Several panel discussions featuring Blavatnik scholars focused on the most exciting and topical developments in science of the last year, including "100 Years In the Making: Gravitational Waves Discovered" moderated by Blavatnik Award Program Manager Louisa Bokacheva, with participation from Szabolcs Marka (Columbia University), Frans Pretorius (Princeton University), and David Spergel (Princeton University); "Combatting Infectious Dieseases," moderated by Ruslan Medzhitov, with participation from Leor Weinberger (Gladstone Institutes), Sinisa Urban (Johns Hopkins University), Xiang Gao (Yale University), and Matthew Evans (Mount Sinai Health System); and "Nanotechnology" moderated by Yueh-Lin Loo (Princeton University), with participation from Kenneth Shepard (Columbia University), George Malliaras (Ecole Des Mines de Saint-Etienne), and Sergei Kalinin (Oak Ridge National Laboratory).
Stuart Firestein of Columbia University delivered the dinner keynote address of the symposium, entitled "Ignorance, Failure, Doubt and Uncertainty: Why Science Is So Successful", a topic related to that on which he has also given an extremely well-received TED talk. At the symposium keynote, he discussed the importance of failure to scientific inquiry and discovery, as well as the interesting phenomenon of scientists being more accessible when talking about what they don't know, as opposed to what they have already discovered.
Photos from the 2016 Blavatnik Science Symposium: