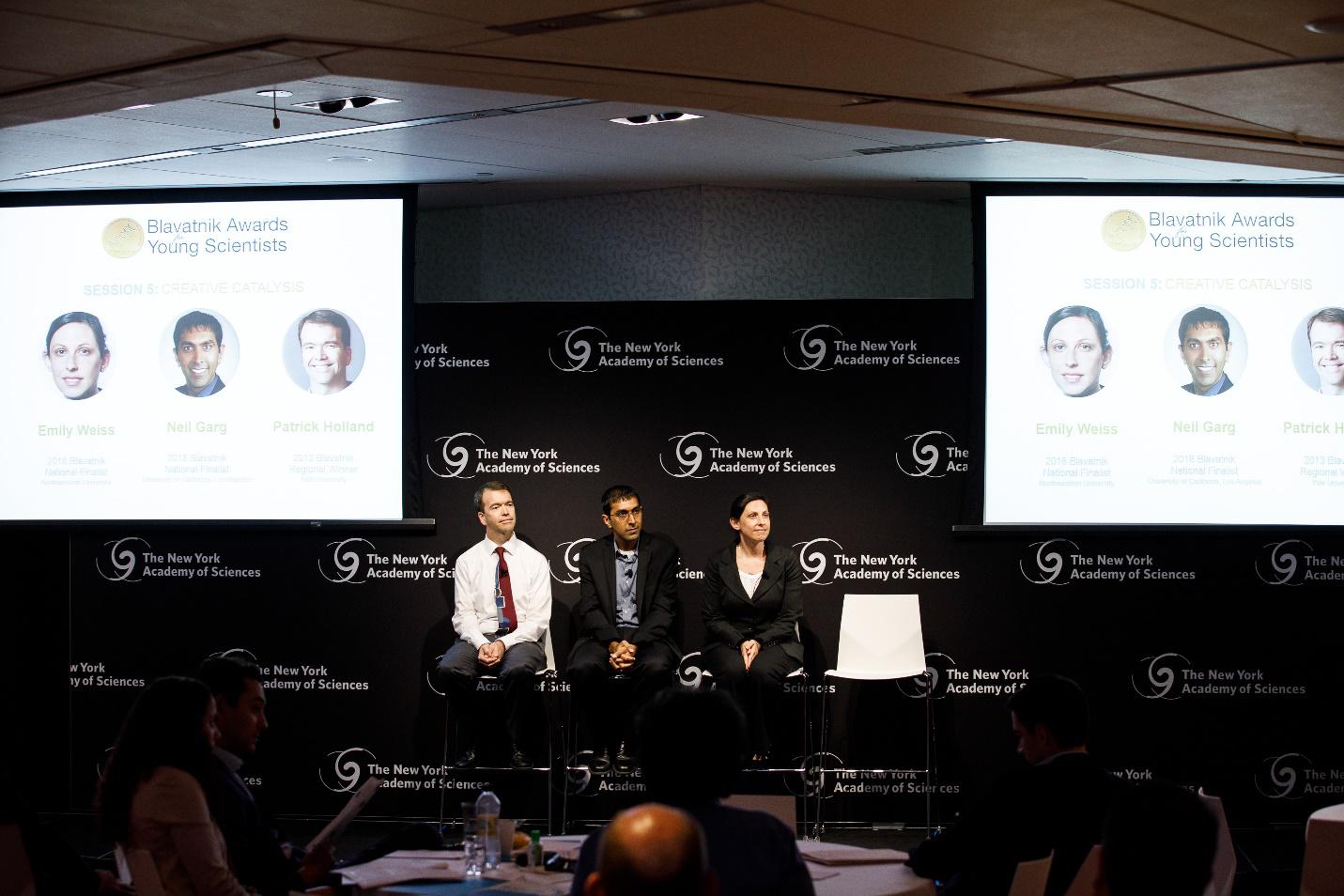 The 2018 Blavatnik Science Symposium took place on Monday, July 16 and Tuesday, July 17 at the New York Academy of Sciences. This annual event is an exciting interdisciplinary meeting, convening Blavatnik Awards honorees from all around the world in the fields of Life Sciences, Chemistry, and Physical Sciences and Engineering. It has been hosted by the Academy, in collaboration with the Blavatnik Family Foundation, for the past five years.
The symposium aims to bring together the community of Blavatnik scholars to nurture scientific collaborations and discourse through networking, talks, and discussions focused on the latest cutting-edge research. A detailed eBriefing with highlights of the entire symposium program is available on the New York Academy of Sciences' website.
Over 90 distinguished scientists, academic luminaries, business entrepreneurs and industry professionals from diverse disciplines participated in the two-day event. Attendees included the 2018 Blavatnik Awards honorees from the USA, UK, and Israel, as well as Blavatnik Award honorees from previous years who remain active members of the Blavatnik Awards community. Also in attendance were Blavatnik Life Science Entrepreneurship fellows from Harvard, Yale, and Stanford Universities. Representatives from Harvard University's Blavatnik Biomedical Accelerator also joined the symposium.
Ellis Rubinstein, President and CEO of the New York Academy of Sciences called the annual Blavatnik Science Symposium "one of the most exciting intellectual events held at the Academy". Brooke Grindlinger, PhD, the Chief Scientific Officer of Scientific Programs and Awards for the Academy, also gave opening remarks providing an overview of the two-day symposium program.
Day one began with a session entitled "Visualizing Biological Processes" with presentations highlighting new approaches in chemistry and biochemistry for observing and understanding the inner workings of biological tissues and cells. This session was followed by "Manipulating Light", featuring presentations focused on the study of optics and harnessing the power of light. This was followed by two more sessions including an oncology session entitled "A Cell's View of Cancer" and another devoted to novel reactions that are revolutionizing the field of chemistry in "Creative Catalysis."
At noon of the first day, the Blavatnik Science Symposium held its first session dedicated to entrepreneurship and startup companies, entitled "Academic Entrepreneurship and University Startups". Curtis Keith, PhD, the Chief Scientific Officer of the Blavatnik Biomedical Accelerator lead the discussion with special guest Carmichael Roberts, PhD, from Material Impact, an investment company focused on materials science and technology startups. Carmichael shared how he changed from being a National Science Foundation (NSF) fellow in George Whitesides' lab at Harvard University to becoming a venture capitalist. He mentioned that "the last six months of my fellowship, I spent a lot of time speaking to entrepreneurs…there was a scarcity of people who actually knew how to understand the great inventions coming out of academic labs that could translate those discoveries to investors". After Carmichael's presentation, Curtis chaired a panel on university technology startups that included panelists Vivian Berlin, PhD, from Harvard's Office of Technology Development; Alexis Borisy, PhD, of Third Rock Ventures; Jason Gardner, PhD, of Magenta Therapeutics; and David T. Scadden, MD, Professor of Medicine at Harvard Medical School, Director of the Massachusetts General Hospital Center for Regenerative Medicine and Technology and Co-Director of the Harvard Stem Cell Institute.
Special guest Suzanne Lee, fashion designer and founder of the company Modern Meadow gave the dinner keynote address on "Biofabrication: Growing the Future". She discussed the current environmental, ethical and sustainability issues surrounding the leather and textile industries and how innovations in textile science have created an entirely new category of scientifically derived materials grown in a laboratory. Suzanne talked about how Modern Meadow's lab-made biodegradable leather uses yeast-grown collagen that consumes less water, energy and requires no animal skins or animal byproducts.
Day two opened with presentations related to engineering and materials science in a session titled "Creating Unusual Materials". This was followed by a session dedicated to the Microbiome in "The Not So Secret World of Microbes", after which Blavatnik honorees in astronomy and cosmology presented on gravitational waves and the origins of gold in the universe in the "Multi-messages from the Universe" session. At midday on day two, there was a unique opportunity for attendees to brush up on their social media skills in a workshop presented by Guerilla Science: "Social Media for Science Communication and Public Engagement." The symposium concluded with a session devoted to 'Big Data' and biology in the Symposium's final session, "Computational Biology."
2017 Blavatnik National Awards Finalist, William Dichtel, PhD, of Northwestern University commented, "I like coming back to the Blavatnik Science Symposium because it's like watching an entire issue of Scientific American presented before my very eyes".
To listen and read more about the topics presented at the 2018 Blavatnik Science Symposium refer to the entire symposium program in the New York Academy of Science's eBriefing located on the Academy's website.
Click here to see the Facebook Album from the Blavatnik Science Symposium.