Three Outstanding Biomedical Researchers in Life Sciences, Physical Sciences & Engineering, and Chemistry win the 2018 Blavatnik Regional Awards for Young Scientists. Winners include a Stem Cell Biologist, a Biomedical Engineer, and a Biophysical Chemist.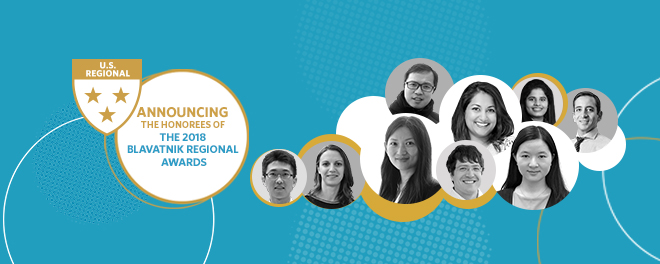 NEW YORK – September 5, 2018 – The Blavatnik Family Foundation and the New York Academy of Sciences today announced the three winners and six finalists of the 2018 Blavatnik Regional Awards for Young Scientists. Supporting outstanding postdoctoral scientists from academic research institutions across New York, New Jersey, and Connecticut since 2007, the Blavatnik Regional Awards pay tribute to researchers in three scientific disciplinary categories: Life Sciences, Physical Sciences & Engineering, and Chemistry. A distinguished jury of senior scientists and engineers selects a winner who is awarded a $30,000 unrestricted prize, and two finalists who each collect $10,000, from each category.
In 2018, the Blavatnik Regional Awards received 125 outstanding nominations from 22 academic institutions in the New York metropolitan (Tri-State) area. This year marks the first time when the jury selected three female Winners, all of whom are leading young scientists in their respective fields of research. The 2018 Blavatnik Regional Awards Winners are:
At the time of nomination, both Drs. Shi and Wei were trainees of 2012 Blavatnik Regional Awards Faculty Finalist Prof. Wei Min of Columbia University.
In recognition of the outstanding achievements of the 2018 Blavatnik Regional Awards honorees, Len Blavatnik, Founder and Chairman of Access Industries and the Blavatnik Family Foundation, and member of the President's Council of the New York Academy of Sciences stated, "These outstanding, early-career scientists are highly innovative and inspirational. We are proud of their contributions to science and excited to observe how their current and future discoveries will make the world a better place."
Ellis Rubinstein, President and CEO of the Academy and Chair of the Awards' Scientific Advisory Council commented on this year's pool of honorees "The New York Metropolitan area's scientific eco-system is a melting pot of scientific ideas and research disciplines. This year's winners and finalists have taken risks, stepped 'outside of the box' of their traditional fields, and drawn from methods and applications beyond their strict disciplines, forging new ideas in the process. Their research and dedication is promising for the future of our world." On this year's clean sweep of the winning honors by women, Rubinstein stated "We are proud to provide a platform for supporting diversity in STEM, showcasing the talent of these incredible young women and in turn encouraging other young women to pursue careers in science. Science is better when diverse voices can shape and drive innovation."
2018 Blavatnik Regional Awards Finalists
The following postdoctoral researchers have been named Finalists in their respective categories:
Life Sciences
Physical Sciences & Engineering
Chemistry
About the 2018 Blavatnik Regional Awards Winners

Shruti Naik, PhD
2018 Life Sciences Award Winner
The Rockefeller University
Dr. Naik's groundbreaking work uncovered a new property of skin stem cells that explains how our largest and most vulnerable organ—the skin—responds to and remembers injuries and inflammatory stimuli such as injury or exposure to skin irritants. The skin is the body's primary barrier to the outside world and it is critical to our survival that it remains intact. Skin tissue is sustained by pools of long-living epithelial stem cells, and Dr. Naik discovered that exposure of these stem cells to noxious stimuli induces an inflammatory "memory" that alters stem cells' genetic landscape and makes them respond more quickly and robustly to a subsequent insult—a property previously thought to be restricted to cells of the immune system. Further, Dr. Naik unveiled the underlying molecular mechanism, finding that exposure to inflammation increases the accessibility of the cell's DNA in regions that are associated with stress responses. In turn, these "poised" stem cells more quickly trigger inflammatory gene expression after a second injury. This response can be beneficial, as pre-inflamed skin heals faster after wounding, but when gone awry also may explain the development and reoccurrence of inflammatory skin diseases such as psoriasis or predispositions to skin cancers. Dr. Naik's discovery that skin stem cells can be sensitized to inflammation may aid the development of better treatment strategies for a variety of skin conditions.

Lingyan Shi, PhD
2018 Physical Sciences & Engineering Award Winner
Columbia University
Dr. Lingyan Shi's pioneering work in developing and applying novel optical techniques has led to a number of significant breakthroughs in biophotonics, with major implications for the fields of neuroscience and cancer research, and is allowing us to visualize the mechanisms underlying everyday processes and disease. One of Dr. Shi's most significant discoveries has been the development of a new experimental technique that combines heavy water labeling and a relatively new imaging method, stimulated Raman scattering microscopy, to probe the metabolic activities of living tissues at subcellular resolution in situ. This discovery facilitates the visualization of tumor boundaries, embryonic development, and even aging in biological tissue. Another significant scientific contribution is her discovery of the "Golden Optical Window" – a unique band of infrared wavelengths that can penetrate deeper into biological tissues than other wavelengths of light during imaging, thereby dramatically increasing the imaging depth possible in brain tissue by as much as 50%. In addition, Dr. Shi has developed an early-detection spectral technique that could provide doctors with a tool for the early-stage detection of Alzheimer's disease.

Lu Wei, PhD
2018 Chemistry Award Winner
Columbia University
Dr. Wei is a physical chemist working at the interface of physics, chemistry, and chemical biology and who has developed transformative optical microscopy technologies, which have widespread impact in biophysics and biophotonics. Traditional fluorescence-based microscopy techniques, while being quite powerful, have fundamental limitations. One major limitation when applying fluorescence microscopy to the study of complex biological systems is the ability to only resolve 2-5 molecular targets at a time. This means that researchers can only obtain a limited picture of the molecular species that are involved in a biological process. To address this limitation, Dr. Wei has developed a novel multiplex imaging technique using nonlinear Raman scattering microscopy coupled with the novel chemical design of new Raman probes. Her method allows for simultaneous imaging of a large number of molecular species (more than 20 targets) and, as a result, represents a major breakthrough in the field of optical imaging. In addition to bio-imaging, Dr. Wei has further demonstrated the high impact of her work by collaborating with material scientists at Columbia University that innovatively used the nonlinear Raman imaging technique to probe the dynamics of electrolyte concentrations in lithium ion batteries.
Honoring the Blavatnik Regional Award Winners and Finalists
The 2018 Blavatnik Regional Awards winners and finalists will be honored at the New York Academy of Sciences' 15th Annual Gala at the Conrad Hotel in New York on November 5, 2018.
About the Blavatnik Family Foundation
The Blavatnik Family Foundation is an active supporter of many leading educational, scientific, cultural, and charitable institutions in the United States, the United Kingdom, Israel, and throughout the world. Recipients of Foundation support include the University of Oxford, the University of Cambridge, Harvard University, Yale University, Tel Aviv University, Stanford University, New York University, the University of Pennsylvania, the New York Academy of Sciences, Tate, the Victoria and Albert Museum, Carnegie Hall, the Royal Opera House, the Hermitage Museum, The Israel Museum, Lincoln Center, numerous Jewish charitable organizations, and countless other philanthropic institutions. The Foundation is headed by Len Blavatnik, a global industrialist and philanthropist. Mr. Blavatnik is the Founder and Chairman of Access Industries, a privately-held industrial group headquartered in New York City with global strategic interests in natural resources and chemicals, media and telecommunications, venture capital, and real estate. For more detailed information, please visit: http://www.accessindustries.com.
About the New York Academy of Sciences
The New York Academy of Sciences is an independent, not-for-profit organization that since 1817 has been driving innovative solutions to society's challenges by advancing scientific research, education, and policy. Throughout its history, the Academy's Membership has featured thinkers and innovators from all walks of life, including U.S. Presidents Thomas Jefferson and James Monroe, Thomas Edison, Lord Kelvin, Charles Darwin, Margaret Mead, Louis Pasteur, and over 130 Nobel Laureates. Today, the Academy numbers over 20,000 Members in 100+ countries, with a President's Council that includes 36 Nobel Laureates and a distinguished Board of Governors comprised of leaders from business, academia, and philanthropy. It is also young and dynamic with nearly 10,000 post-doctoral, post-graduate, undergraduate, and gifted high school student Members. Through collective action, the Academy is partnering with the United Nations to address their Sustainable Development Goals, advising national leaders and organizing public-private partnerships to address the grand challenges of the planet.
Please visit us online at www.nyas.org and follow us on Twitter at @NYASciences.
To follow the progress of the Blavatnik Awards, please visit www.blavatnikawards.org or follow us on Facebook and Twitter (@BlavatnikAwards).
For media requests, please contact Dennis Tartaglia (dtartaglia@tartagliacommunications.com; 732-545-1848) or Kamala Murthy (Kmurthy@nyas.org; 212-298-3740).
###