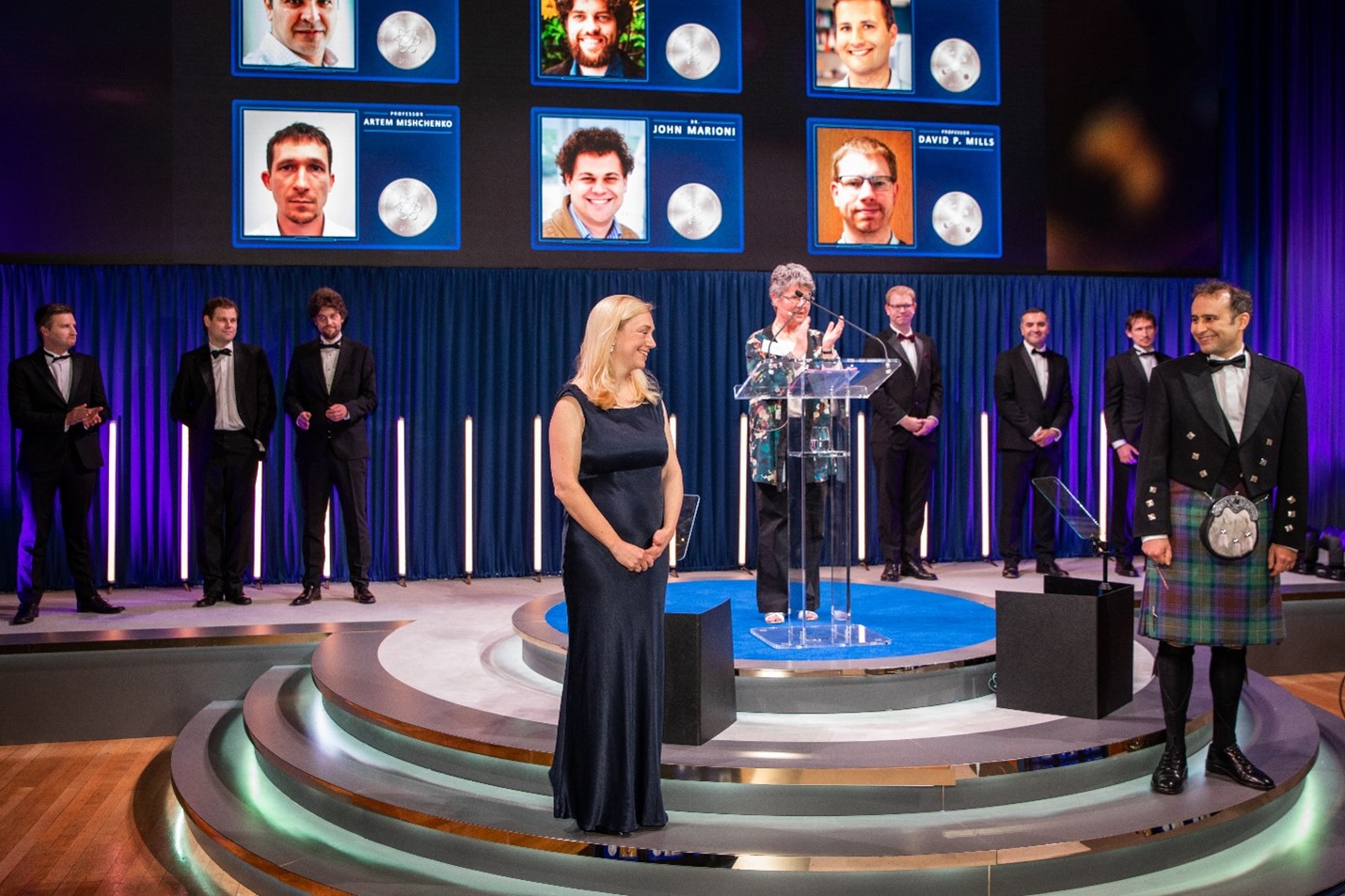 The Blavatnik Family Foundation and the New York Academy of Sciences celebrated the nine honorees of 2021 Blavatnik Awards for Young Scientists in the United Kingdom at an awards ceremony and gala dinner on October 25, 2021. For the second time, the ceremony was held at the spectacular Banqueting House in Whitehall, London.
Renowned astrophysicist, Professor Dame Jocelyn Bell Burnell, Chancellor of the University of Dundee and Winner of the 2018 Breakthrough Prize in Fundamental Physics served as the 2021 Presenter. Over 120 guests attended including prominent leaders in science, academia, government, business, and past Blavatnik Awards Laureates attended the ceremony. Luminary guests included British Diplomat Sir Michael Pakenham; 2019 Nobel Laureate and Astronomer, Prof. Didier Queloz; Founding Dean of the Blavatnik School of Government, Prof. Ngaire Woods; British physicist and a pioneer of string theory, Lucasian Professor of Mathematics, Michael B. Green, University of Cambridge; Head of Collections and Principal Curator of the Science Museum London, Ms. Tilly Blythe; British professor, immunologist and 345th Vice-Chancellor of the University of Cambridge Sir Leszek Borysiewicz; Chief Executive of the British Neuroscience Foundation, Dr. Anne Cooke; Chief Executive at the Foundation For Science and Technology, Gavin Costigan; Managing partner at Abingworth LLP, Genghis Lloyd-Harris; CEO of Access Industries, Lincoln Benet; and EVP of Access Industries, Peter Thorén.
With COVID restrictions eased throughout the UK, this was the first Blavatnik Awards gathering in London since March 2020. During her opening remarks, Professor Burnell commented, "I believe it goes without saying that there have been few moments in history when the importance of science and its future developments have been so clearly a matter of life or death. That's one of the reasons I regard these awards as being so important. We are not just honoring an exceptional group of young scientists, we are also putting our faith and belief in their futures. And as pioneering practitioners of science, their futures will affect and shape all of our futures."

In commenting on the importance of science aiding the global COVID-19 pandemic, President and CEO of the New York Academy of Sciences, Nicholas B. Dirks said "If ever there has been a time when the world has needed the power of discovery and the brilliance of the world's scientists, it is now. The speed at which COVID-19 upended our world has been a stark reminder that we need to continually invest in, and support, the people who devote their lives to the practice of scientific research."
For each Award category—Physical Sciences & Engineering, Chemistry, and Life Sciences—two Finalists were each awarded prizes of US$30,000, and one Laureate in each category was awarded US$100,000. As each honouree was recognized, the audience was treated to a film introducing their groundbreaking research before Sir Leonard Blavatnik congratulated them and presented them with their Blavatnik Awards medal. To watch the honoree films, click on the links to the honoree profile pages below:
Laureates
Finalists
Physical Sciences & Engineering Laureate, Sinéad Farrington, and Life Sciences Laureate, Steve Brusatte, both gave short scientific talks after receiving their medals. Chemistry Laureate, Daniele Leonori, was unable to attend and was honored in absentia.
The ceremony concluded with the Blavatnik Awards tradition of making a "Toast to Science." The following day the honorees shared their cutting-edge research in a Blavatnik Awards public symposium hosted by BBC News Science Correspondent, Victoria Gill, entitled "Innovating for a Better Future: 9 Young Scientists Transforming Our World." Stay tuned for an Academy eBriefing with videos and research summaries from this engaging public event.