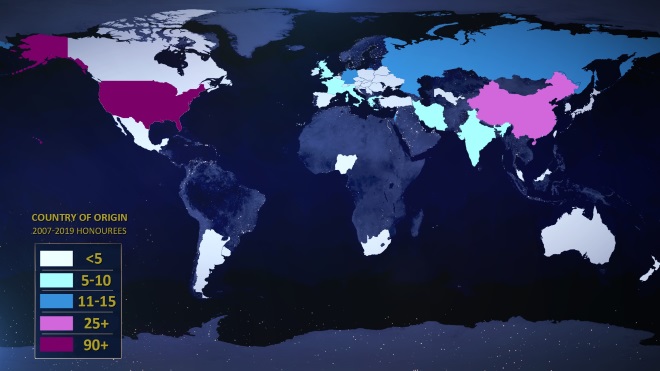 60% of Blavatnik Awards honorees are immigrants to the country in which they were recognized (U.K., U.S., Israel)
The Blavatnik Family Foundation and the New York Academy of Sciences recently announced 31 finalists for the 2019 Blavatnik National Awards for Young Scientists in chemistry, physical sciences and engineering, and life sciences. This year, many finalists are foreign-born, continuing a long history of the U.S. providing academic opportunity to large numbers of scientists and engineers from aboard. These finalists are now working on advances across multiple disciplines that are destined to impact populations around the world.
Here, some of the finalists discuss their journey, what inspired them to come to the U.S., and how their contributions will impact science for decades to come.
---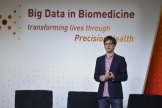 Dr. Jure giving a talk at Stanford

Dr. Jure Leskovec, Associate Professor, Stanford University is a finalist for developing machine-learning methods to predict safety and potential adverse side effects of pharmaceuticals.
"It felt very real." That's how Jure Leskovec describes his first visit to Silicon Valley in 1998.
As a 17-year-old boy from Slovenia, he was fascinated to see such a large swath of high-tech companies in one area, and he felt privileged to step inside labs that were conducting cutting-edge research and producing the world's most innovative products.
"I instantly knew that I had to be a part of this," he said.
Leskovec went on to earn a doctorate in machine learning (the scientific study of algorithms and statistical models that computer systems use to perform a task without using explicit instructions) from Carnegie Mellon University and received post-doctoral training at Cornell University.
Today, he holds dual citizenship in the U.S. and Slovenia, and is a full-time, assistant professor of computer science at Stanford University while also acting as the chief scientist at Pinterest.
Reflecting on his journey, Leskovec said he wanted to train at a university that offered the best machine-learning research program and go back to Slovenia once it was complete. But the opportunities and support he received in the U.S. kept pulling him back until he finally decided to settle here.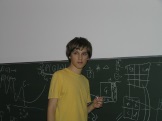 Dr. Jure giving a talk at Jozef Stefan Institute in Slovenia

He is grateful for that and wants to do the same for other deserving students. He founded the American Slovenian Education Foundation that works to unite Slovenian scholars and educators globally and grants fellowship to talented Slovenian undergraduates.
"Living in the U.S. opened my mind and helped me appreciate the diversity of our world," he said.
Leskovec and his team are building an artificial intelligence system for predicting, not simply tracking, potential side effects from drug combinations. This could help physicians make better decisions about what drugs to prescribe, help researchers find better combinations of drugs to study complex diseases and assist the FDA in its drug approval process.
His research also will help regulators overcome what he described as a long and complex recall process.
"Outside of a clinical study, the way we learn more about a drug's potential side effects is to have patients report their experience to their physician, the manufacturer or directly to the FDA," Leskovec said.
"Depending on the number of reports or the severity of the side effect, the FDA may ask the manufacturer to investigate. Once the investigation is completed, the FDA may consider new labeling, or even have the drug removed from the market."
Dr. Andrea Alù, Professor, City University of New York (CUNY) is a finalist for leading breakthrough research in metamaterials with exotic optical and acoustic properties, including scattering suppression, giant nonlinearities and nonreciprocity.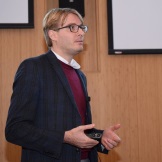 Dr. Alù giving a lecture at the Advanced Science Research Center at CUNY (photo vredit: ASRC, CUNY)

During his undergraduate studies in Rome, Andrea Alù won a competition to visit the U.S. for a research internship at University of Pennsylvania (UPenn). Once the internship was complete, he returned to Rome to earn his doctorate, but the pull of opportunity in the U.S. brought him back to finish his post-doctoral studies at UPenn.
"My first trip to the U.S. and the opportunity to work in complete freedom with my research mentor, Professor Engheta, during my internship at UPenn had a profound impact on my life," Alù said.
"I got the opportunity to get myself immersed in an up and coming research area with tremendous opportunities and work with the top scientists in the field. I knew I wanted to come back and do advanced research here in the U.S. I am glad I made that decision."
Alù's decision has proven to be a great success. His research team is implementing new concepts for sensors that provide enhanced sensitivity and resolution for biomedical devices and have been collaborating with groups working on brain and health issues to build better ways of sensing and imaging.
Alù is also actively working to improve the technology that makes computing faster, more accurate and helps create more energy efficient devices.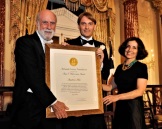 Dr. Alù receiving the Alan T. Waterman Award in 2015

He believes the use of light instead of electrons in working with quantum regime can enhance computing dramatically. And that would help to meet energy needs to operate IT infrastructure in a more sustainable manner.
Alù's work has received international attention. Among his numerous awards, one that stands out is being named a Vannevar Bush Faculty Fellow - the department's most prestigious single-investigator award that aims to advance transformative, university-based fundamental research.
"This is a country that welcomes talent from other countries and gives them the opportunity to live their best lives and do their best work," Alù said.
He now holds dual citizenship in U.S. and Italy.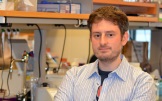 Dr. Seyedsayamdost during his postdoc at Harvard Medical School

Dr. Mohammad R. Seyedsayamdost, Assistant Professor, Princeton University is a finalist for exploring ways to extract hidden drug-like molecules encoded in bacteria that can be used to address the global shortage of antibiotics.
It was the peak of Iran-Iraq war in 1987 when Mohammad Seyedsayamdost's family fled from Iran to Germany. He was eight years old.
"The trigger for my parent's life-changing decision came when a hospital right next to my elementary school was bombed," he said.
Since then, Seyedsayamdost has lived in three countries – Germany, Australia and the U.S.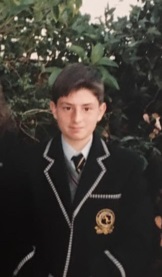 Dr. Seyedsayamdost during middle school in Australia

Growing up in a family where education was prioritized, Seyedsayamdost always wanted to come to the U.S. for his higher education. He attended Brandeis University in Massachusetts for his undergraduate studies and ultimately received his doctorate in Chemistry under the guidance of Professor JoAnne Stubbe at MIT, followed by postdoctoral work at Harvard Medical School with Professors Jon Clardy and Professor Roberto Kolter.
"Every step of the way, I missed my family and wanted to return home. But I also knew the best way to honor the sacrifices my parents made for my future was to do exceptional work that would create a positive impact in the world," he said.
Seyedsayamdost is working on a groundbreaking method for accessing a previously hidden realm of drug-like molecules encoded in bacteria called secondary metabolites.
Genome sequencing has shown that most biosynthetic genes that produce these metabolites are not expressed under normal laboratory conditions. But Seyedsayamdost's method, called High Throughput Elicitor Screening (HiTES), unlocks these novel compounds, some of which have shown much enhanced bioactivity.
He and his research team at Princeton University are using this method to isolate novel antibiotic molecules, which could help develop antibiotics to meet market shortages.
"A high risk, high reward kind of study" is how he describes his work.
Like his fellow scientists, Seyedsayamdost is thankful for the opportunities he received studying and working in the U.S. and plans to apply for citizenship when he is eligible in four years.
"One thing I have always appreciated about science in the U.S. is that it provides an even playing field," he said.
"Once you are in, you are judged by your talent and capabilities and not by where you are from or the color of your skin. The can-do attitude and the innovative mindset of people in this country, is what makes it so desirable for the world's best scientists to come here and do their best work."