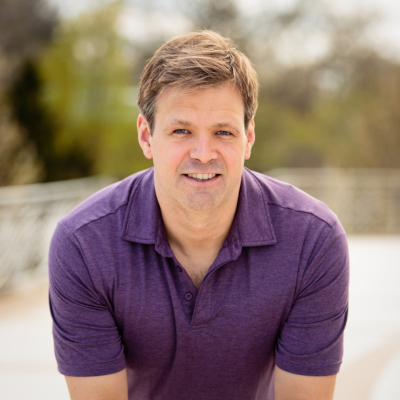 The real power of science hit William R. Dichtel, PhD, when he was an undergraduate at the Massachusetts Institute of Technology.
Working in the lab of his mentor, Professor Timothy M. Swager, he looked for ways to detect explosives, the so-called legacy landmines ­– deadly unexploded landmines left behind from war-torn regions worldwide. It was, Dichtel said, the first time he realized how much creativity is involved in science – more than just facts in a textbook.
That principle – using the tools of science to improve the human condition – has carried him to the top of his profession, named the 2020 Blavatnik National Awards for Young Scientists Laureate in Chemistry. The Blavatnik Family Foundation and the New York Academy of Sciences announced all three 2020 Laureates in July. Dichtel was a Blavatnik National Awards Finalist in 2017 and in 2019.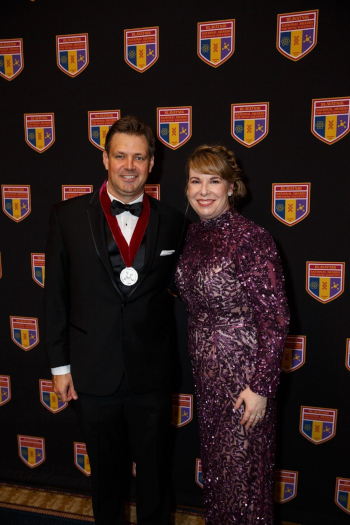 At the 2019 Blavatnik National Awards ceremony, Will Dichtel with Dr. Brooke Grindlinger, chief scientific officer of the New York Academy of Sciences


Now an organic chemist at Northwestern University, Dichtel, 42, was recognized for his groundbreaking chemical methods that he uses to invent novel, porous materials from simple, carbon-based building blocks. One of these porous materials removes toxic pesticides and industrial pollutants from drinking water.
In 2016, he co-founded Cyclopure, a startup company to move these materials beyond the lab and into commercial use. He also is actively developing new methods to make plastics more sustainable and recyclable.
Dichtel, the first Blavatnik National Awards Laureate selected from Northwestern University, still teaches parts of the university's introductory organic chemistry course, furthering his goal of inspiring the next generation to solve complex problems with chemistry.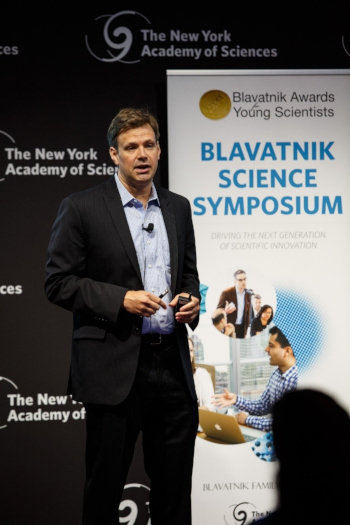 Will Dichtel presenting at the 2019 Blavatnik Science Symposium at the New York Academy of Sciences


"It is a true privilege to tackle leading scientific problems," Dichtel said. "We're definitely producing science and we're discovering things, but along the way, we are building a community and we're training scientists of the future."
Outside of the lab, Dichtel, a Texas native who grew up in Roanoke, Virginia, is a competitive long-distance swimmer. In August, he completed the Chicago Skyline marathon swim in Lake Michigan, setting a record with a finish at just under 12-and-a-half hours.
What was he thinking during that long, watery stretch? "Weird mental tangents and occasional bars from Hamilton or Jason Isbell lines, though mostly just being in the moment," he told his Twitter followers.
Earlier this year, he also had planned to swim the English Channel, but the pandemic scuttled that idea – for now.
To excel in science – and in his after-work vocation, sports – Dichtel follows a core rule: perseverance.
That's key, he said, as well as developing communication skills in writing papers, presenting work and being a collaborator with others across multidisciplinary fields.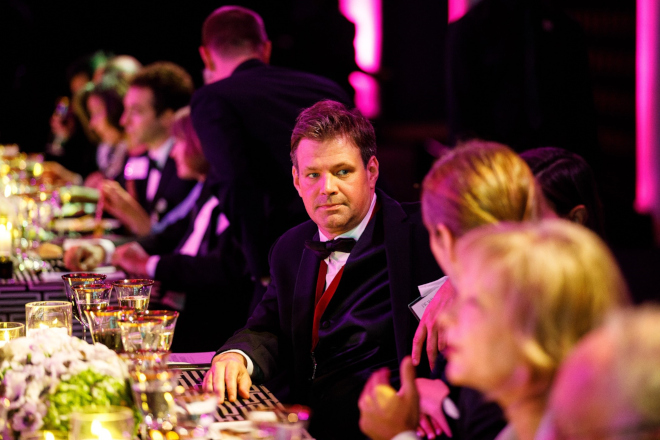 Will Dichtel at the 2019 Blavatnik National Awards ceremony at the American Museum of Natural History in New York.
"This is a business of repeated failure so that one can be successful," Dichtel said. "We get almost everything wrong, almost all the time. Just getting comfortable with that and still being not discouraged and logical about it is very, very important."
For details on how to be nominated for the 2021 Blavatnik National Awards or if you know a brilliant research scientist who would make an outstanding candidate for nomination, please visit the Blavatnik National Awards nominations page here or download the 2021 nominations flyer here. Nominations for the 2021 Blavatnik National Awards will be open until Oct. 28, 2020.