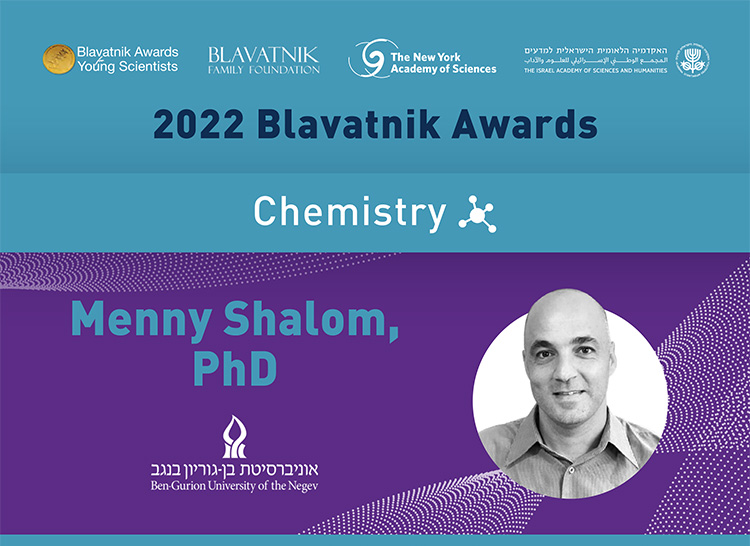 Prof. Menny Shalom, 42, from the Department of Chemistry at Ben-Gurion University of the Negev, is trying to discover and design new materials that will enable chemical 'shortcuts' in the process of converting sunlight into energy for human use. Instead of fossil fuels, which harm the environment and cause global warming, climate change, and pollution, his laboratory develops a wide range of materials designed to streamline existing processes for the production of alternative energy. Since 2016, Prof. Shalom has led a research group focused on using solar energy for the production of hydrogen or carbon-based fuels. The group is also interested in developing materials for batteries, and finding materials to replace metals currently used in electrolysis processes that are likely to play a major role in a future hydrogen economy.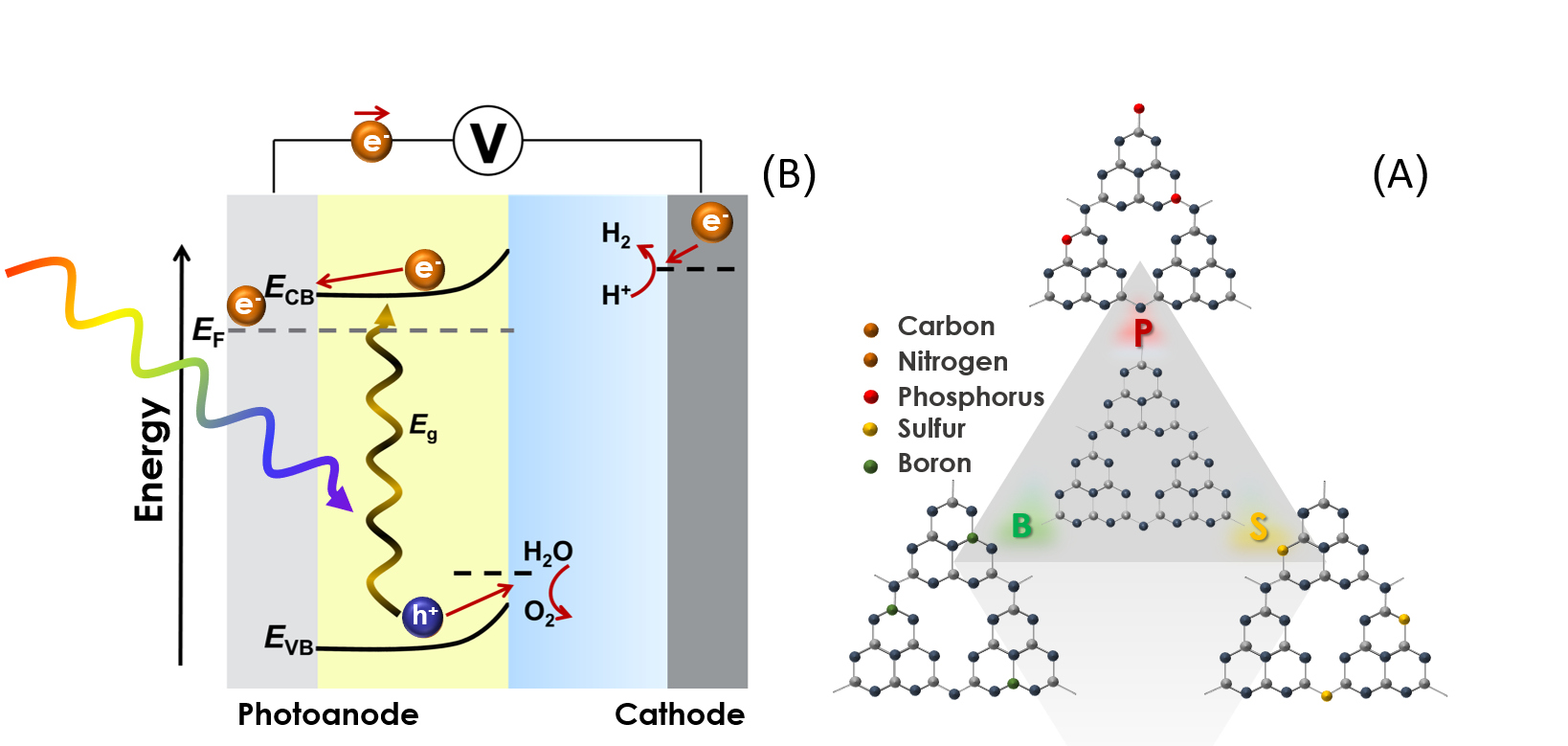 (A) An illustration of a two-layer carbon nitride material and its dervatives with additional boron, phosphorus and sulfur atoms.
(B) An illustration of a photoelectrochemical cell under light (the active material in the photoanode absorbs the sun's radiation and turns it into electrically-charged elements which perform the chemical reactions described: oxidizing water into oxygen, and generating hydrogen at the cathode).
These innovative developments are part of the reason for Prof. Shalom's selection as the chemistry Laureate of the 2022 Blavatnik Awards for Young Scientists in Israel. Prof. Shalom will receive US$100,000 in unrestricted funds, he will join the prestigious list of Laureates in Israel and around the world, and will participate in meetings and symposia with the honorees of the awards program, which operates in the United States, the United Kingdom, and Israel. The Blavatnik Awards for Young Scientists in Israel program was launched in 2017 in a collaboration between the Blavatnik Family Foundation, the Israel Academy of Sciences and Humanities, and the New York Academy of Sciences.
The materials developed by Prof. Shalom are mostly based on only five common elements: carbon, nitrogen, phosphorus, sulfur, and boron. The innovation lies in the development of a new method for the synthesis of materials based on these elements, which makes it possible to control the physical properties of the finished product. Prof. Shalom is utilizing this new synthetic technique for one main purpose: to create fuels from sunlight. "Our research is very broad, but the common theme throughout is the goal of capturing sunlight and converting it into a fuel that can serve as a source of energy," he says. "Water electrolysis (for hydrogen production), photosynthesis, and energy storage—all these mechanisms have been known for a long time," explains Prof. Shalom, "but we are trying to see how we can control them and streamline the processes using the methods we have developed for the synthesis of specific materials."
Prof. Shalom explains his scientific breakthrough using an analogy to Legos: "Imagine that I have some Lego bricks in only primary colors, and I want to create a certain structure from them after a 'baking' procedure in a high temperature oven. In reality it is a very complex process. The Lego bricks react with each other and their environment, and it is not possible to know what will be obtained from their connections after the heating process. On the other hand," he adds, "the method we have developed makes it possible to determine the functions of the bricks, and thus we can predict what the final shape will be after the material is built, even after reactions at high temperatures."
The unique synthetic methodology opens up new and far-reaching possibilities of utility. "We have shown that the type of materials we are researching can compete with, and in some cases surpass, existing materials in the field of solar energy conversion to fuel." Prof. Shalom demonstrates this: "With the help of these new materials, it is possible to design efficient photoelectrochemical cells that will utilize the entire solar spectrum and also store the energy generated from it. Batteries can be developed without the use of elements that are less abundant on Earth. With careful planning of the necessary materials, it should also be possible to replace very rare metals, which are involved in a variety of processes, using only the five elements mentioned."
Prof. Shalom says that he came to chemistry relatively late. "I would like to say that the periodic table was hanging over my bed and that I disassembled transistors as a child," he says with a smile, "but that was not the case." He grew up in south Tel Aviv and Holon, served additional years in the army, after which he traveled the world with the woman who later became his wife, and only then began his studies in chemistry.
"Because I focused on sciences in high school, I started studying computer science and chemistry at Bar-Ilan University," he says. "But already in the second year," he recalls, "I realized that chemistry is the main thing I wanted to focus on." He went on to pursue a master's degree and a doctorate at Bar-Ilan University, on "Understanding the Mechanisms in Quantum Dot Sensitized Solar Cell Towards Innovative Design, Synthesis and Fabrication of Efficient Quantum Dot (Q.D.) Based Solar Cells" He went on to do a postdoctoral fellowship at the Max Planck Institute in Potsdam, Germany. He then returned to Israel, to lead a research group at Ben-Gurion University of the Negev. In his few years at the university, he has received research grants from the European Union's Research Foundation, and also won the Israel vacuum society (IVS) early career excellence award and the Israel Chemical Society prize for young scientists.
Last summer he was informed that he had won the Blavatnik Award. "It was very exciting and thrilling," he says, "especially because our whole family was in isolation after we all got sick with the coronavirus." He says that apart from the personal feeling of pride, he is also proud to be the first winner of the prestigious award at Ben-Gurion University. "But I hope there will be many others in the coming years," he says. "It's a great feeling to receive the award. It gives a great boost to our research."
Prof. Shalom explains that the innovations that have taken place in his laboratory can be attributed to the fact that he started studying chemistry in the field of pharmaceuticals, moved on to the more physical side of chemistry in the field of solar cells, and from there went on to study advanced materials science in Germany. "I really like to combine different fields," he says, "and that's one of the most beautiful things in science, in my opinion. The thought of how to combine different areas gives you the ability to get better, move forward, and maybe reach real breakthroughs," he said.
When asked how he creates an atmosphere in a lab that would allow such creativity, he replies: "We try not to be fixed. I encourage my students to work with other people and different members of the staff. I tell them they are allowed to make mistakes and that mistakes are a necessary part of learning, but one should always be curious and creative.
"Sometimes when brainstorming a topic we encounter the question of whether something will work or not. In our field it usually does not take months to find out if a certain direction is leading forward or backward, so I tell them: 'Do not be afraid, try, the worst thing that can happen is that it will not work, but at least we will learn something new'. I believe many breakthroughs come from creative, outside of the box thinking."