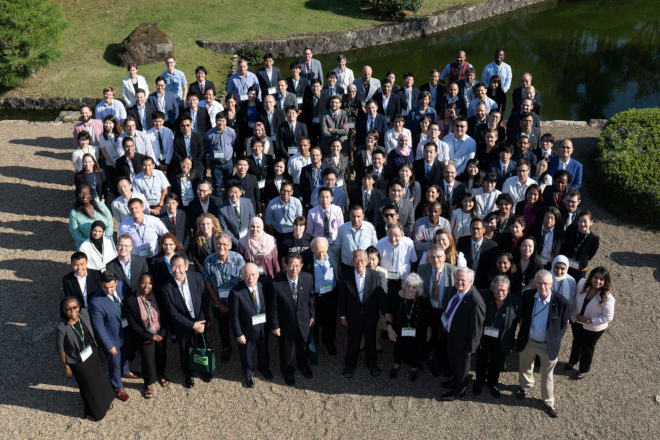 Founded in 2004 by the former minister to the Japanese government, Koji Omi, The Science and Technology in Society (STS) forum was created to provide a new mechanism for informal, open discussion between scientists and government leaders from around the world. The goal: to resolve the new challenges facing the world, including global warming, pollution, food shortages, overpopulation, and the need to develop renewable energy sources. Each year, leaders from science, technology, and government converge in Kyoto, Japan for a unique summit, which is referred to as the STS forum.
Over a decade ago, the New York Academy of Sciences forged a partnership with the organizers of the STS forum, through the Academy's then President and CEO, Ellis Rubinstein. Subsequently, Rubinstein was elected to serve as Council Member —a seat that has recently been assumed by the new Academy President and CEO, Prof. Nicholas B. Dirks. As part of the partnership between the two organizations, each year the Academy selects eight scientists under the age of 40—two each from North America, Europe, Asia, and the developing world—to attend the STS forum Annual Meeting in Kyoto, Japan.
In 2019, two Blavatnik Scholars, Dr. Moran Bercovici (MB) and Dr. Wilhelm Palm (WP), were selected as representatives from Europe. Dr. Bercovici was honored as the Laureate in Chemistry for the 2019 Blavatnik Awards for Young Scientists in Israel, and Dr. Palm was a Blavatnik Regional Awards for Young Scientists Finalist in the field of Chemistry in 2017. We asked them to share some memories of last year's STS forum.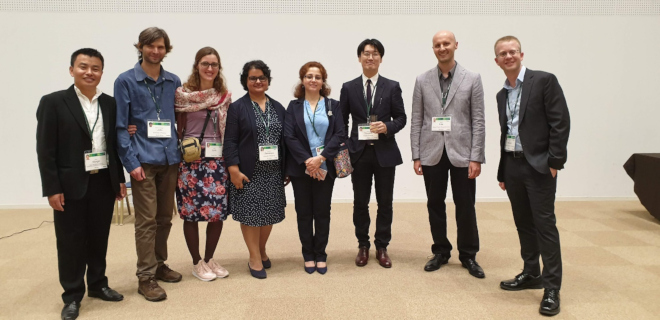 Moran Bercovici (far right) and Wilhelm Palm (second from right) with a group of STS Forum young delegates
What were some of your fondest memories from the 2019 Science and Technology in Society forum in Kyoto, Japan?
MB: Receiving advice from Nobel Laureates over drinks; listening to an inspiring talk by Japan's then Prime Minister, Shinzo Abe; learning about climate change directly from leaders in the field; participating in round-tables with industry and government leaders; and generally, meeting great people who want to change the world for the better.
WP: I remember lively discussions with young leaders working in space technology, cybersecurity, and agricultural engineering all around the globe, and having a chat during the conference dinner at Kennin-ji temple, standing in front of the famous folding screen painting Wind God and Thunder God.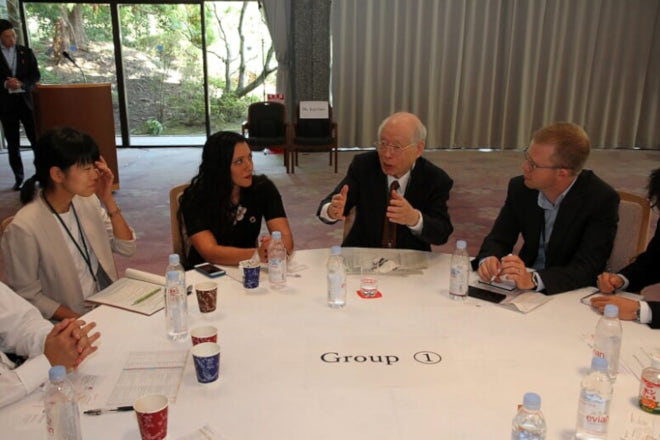 Moran Bercovici (far right) in a discussion group with 2001 Nobel Laureate Ryōji Noyori (center) at the 2019 STS Forum
The STS forum is unique in that it brings together leaders not only from various scientific fields, but also from the government and private sectors as well. What were some of the advantages to such a gathering?
MB: It's not often that we scientists get to go outside our 'bubble' and have close, personal interactions with government and industry leaders. The STS forum manages to set the right atmosphere where everyone leaves their ego at the door and is willing to discuss very openly the challenges and opportunities that technology and science bring to society.
WP: We all know that solutions are often found through interdisciplinary collaborations. But normally, for me that means to work with a biologist from a different field, or maybe a medical doctor or a chemist. But the STS forum was truly interdisciplinary, bringing people together from vastly different professional backgrounds and cultures. This was a lot of fun and really inspirational.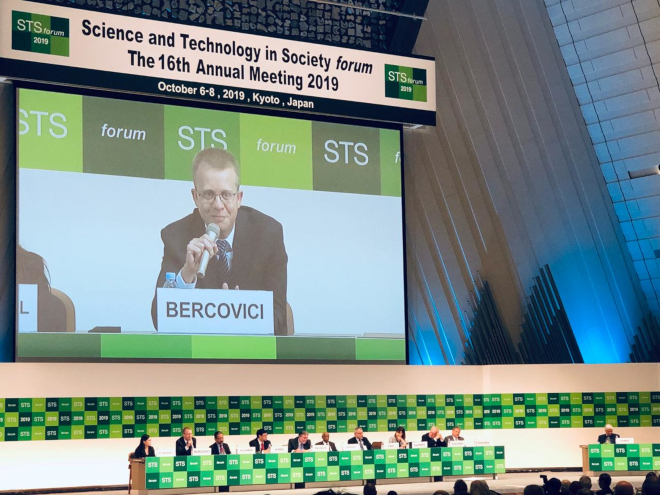 Moran Bercovici speaking on a panel at the 2019 STS forum
Who were some of the science VIPs that you were able to interact with? Did they have any advice that you have incorporated into your career?
MB: If I had to choose one conversation that really affected me, it was the one with Prof. Ryoji Noyori. This came at a time that I was struggling and debating with myself on the question of 'what is good research?' I distinctly remember one particular piece of advice that he gave me: "Don't be the best one in what you do. Be the only one". This is now my compass.
WP: During the young leaders' discussion with Nobel Laureates, I had the chance to talk to Prof. Ryoji Noyori, from the Japan Science and Technology Agency, and Nobel Laureate Prof. Ada Yonath from the Weizmann Institute. I found it helpful to get a personal account of how such pioneering scientists made their own way in different fields and systems. I also remember a dinner conversation with a Japanese university president, who recommended saké bars in Kyoto. From what I understand, interaction between Japanese scientists from different career stages are usually more formal, and it was nice to see that our hosts embraced a more relaxed way to interact with their Western guests.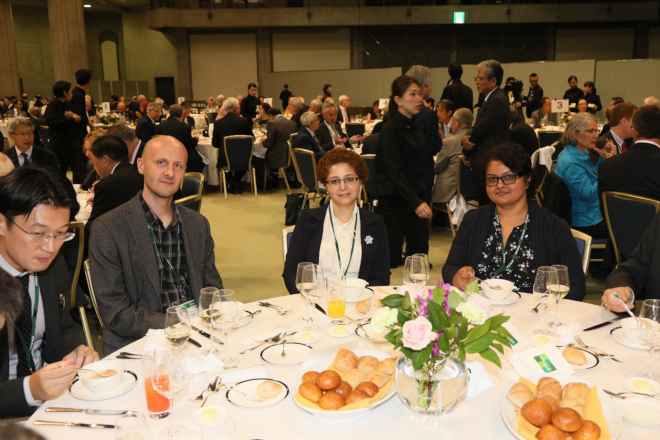 Wilhelm Palm (second from left) at a dinner with other attendees of the 2019 STS forum
Would you recommend this experience to other young scientists?
MB: I very much recommend this experience to anyone who is given the opportunity. Come with an open mind to experience something different, talk to anyone and everyone, and bring a big pile of business cards—you're going to make lots of connections.
WP: Yes, definitely. In our daily work, we have to think deeply about the specific scientific problem that we are trying to solve. The STS forum is a chance to take a step outside and think about how science and technology can contribute to solving the grand challenges of our present and future. This was a profound experience for me as a scientist and as a person.
To learn more about the 2020 STS forum, click HERE. To learn more about the work of Moran Bercovici please watch the film about his research on his Blavatnik Awards profile page . To learn more about Wilhelm Palm's research, read this ebriefing featuring his presentation he gave at the 2018 Blavatnik Science Symposium.