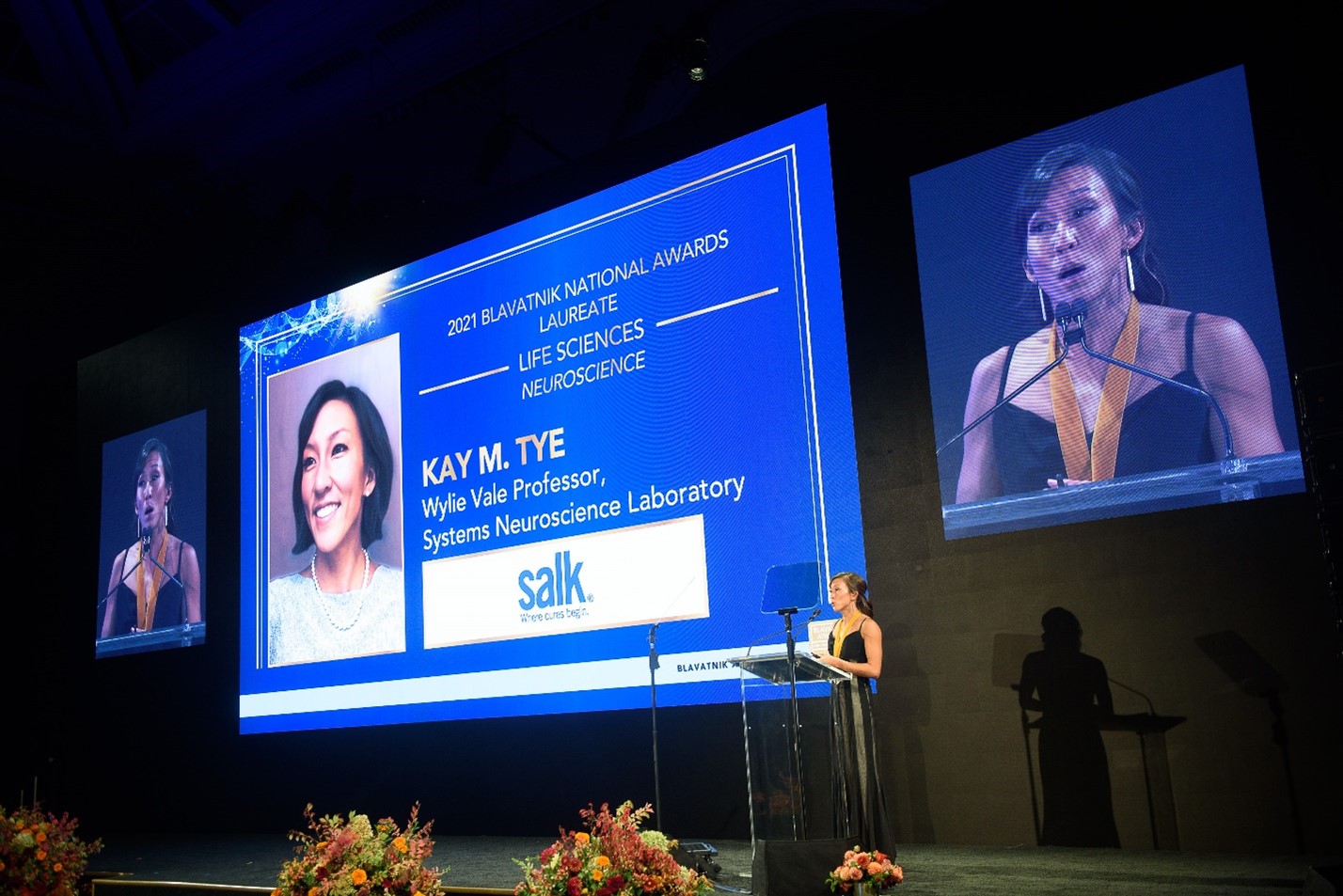 Photo taken of 2021 Laureate Kay M. Tye during the Blavatnik National Awards for Young Scientists Ceremony celebrating the Honorees of 2020 and 2021
On Tuesday September 28, 2021, the Blavatnik Family Foundation hosted the seventh annual Blavatnik Awards for Young Scientists Ceremony at the American Museum of Natural History in New York City. This event honored the 2020 and 2021 Blavatnik National Awards Finalists and Laureates, along with the 2020 Blavatnik Regional Awards honorees, who are postdoctoral researchers in New York, New Jersey, and Connecticut. Some of New York's leading figures in science, academia, and philanthropy attended, along with 138 guests. Larry Bacow, President of Harvard University, served as the Master of Ceremonies.
In reflecting on the past year and events related to the COVID pandemic, Bacow remarked "Science is a constant source of humility and an endless wellspring of achievement. This year—more than any other in my lifetime—has reminded me of that fact…Again and again, science saves humanity with a combination of obstinate optimism and relentless realism." He concluded by introducing the President of the New York Academy of Sciences, Nicholas B. Dirks. President Dirks gave a brief history of the New York Academy of Sciences, the organization's connection to the Blavatnik Awards and Len Blavatnik's inspiration to create a unique science prize that honored scientists early in their career, where money and recognition could propel scientific achievement and innovation.
Dirks went on to introduce the nine 2020 Blavatnik Regional Awards Finalists and Winners, the Blavatnik Awards' original prize honoring the Tri-state area's most talented postdoctoral scientists. He introduced a film featuring the three 2020 Regional Winners, followed by the Winner's receiving their medals on stage.
When the Master of Ceremony, Larry Bacow, returned to the stage, he announced on-stage the esteemed cohort of 2020 National Finalists and 2021 National Finalists in the awards categories of Life Sciences, Chemistry, and Physical Sciences & Engineering. The achievements of these incredible scientists were roundly lauded by the audience. A video highlighting the extraordinary work of the three 2020 Blavatnik National Awards Laureates, William R. Dichtel, Brian Metzger, and Cliff Brangwynne, was shown and each scientist was called to the stage to receive their medal.
Shortly afterwards, Bacow recognized the 2021 Blavatnik National Awards Laureates by introducing a film on each Laureate, followed by calling them to the stage to receive their medal by Dirks. Then each Laureate gave a scientific presentation at the podium.
2021 Laureate in Life Sciences, Kay M. Tye from the Salk Institute of Biological Sciences spoke about her research focused on the neural circuitry driving emotions, cognition, addiction, and depression. She discussed how their team pivoted their research to study the effects of social isolation as a result of the COVID pandemic.
After receiving his medal, 2021 Laureate in Chemistry, Mircea Dincă from MIT, gave a talk on metal-organic frameworks (or MOFs) which he coined "sponges on steroids." He discussed his discovery—conducting electricity through MOFs—and how these materials could be useful as supercapacitors for energy storage and new green technology systems; he also discussed his partnership with Lamborghini.
Next, 2021 Laureate in Physical Sciences & Engineering, Andrea Alù from The City University of New York presented his latest research on nano-structured metamaterials which could lead to new, enhanced materials technologies that have applications in areas such as cellular communications, energy harvesting, radar cloaking, optical computing, and nano-optics.
The evening concluded with Bacow's Toast to Science: "With deepest gratitude and affection to the Museum of Natural History, to the New York Academy of Sciences, to all of our inspiring Young Scientists and to the great institutions where they have found homes, to the whale and to everyone who's walked this hall under its gaze in search of knowledge and wisdom… To Science!"
2022 Blavatnik National Awards nominations are now open thru November 17. Learn more