The second annual Blavatnik Science Symposium took place on August 5th and 6th 2015 at the New York Academy of Sciences (the Academy). This two-day event was hosted by the Blavatnik Family Foundation and the Academy and convened more than 50 past Blavatnik Awards honorees and 2015 National Finalists. The Symposium was attended by Len Blavatnik and other representatives of the Blavatnik Family Foundation, scientific luminaries, representatives of the Blavatnik Biomedical Accelerator and the Blavatnik Fellowship in Life Science Entrepreneurship program from Harvard University, and members of the press.
Building on the success of the inaugural 2014 Blavatnik Science Symposium, this year's event was expanded to a two-day program to accommodate the growing Blavatnik Science Scholars Community of past and current honorees. Ellis Rubinstein, President and CEO of the Academy, and Dr. Mercedes Gorre, Executive Director of the Blavatnik Awards, opened the event with their welcoming remarks and were followed by a keynote address by 2010 Blavatnik Regional Award winner Michal Lipson, professor of Electrical Engineering at Columbia University, who spoke about the latest advances in nanophotonics.
Blavatnik Awards honorees and 2015 National Finalists had the opportunity to network and present their work in front of their peers. A number of participants gave brief talks highlighting their research accomplishments in a broad variety of areas ranging from genomics to quantum materials to devices for portable diagnostics. A special session featured 2014 Blavatnik Regional Award honorees, who, having been recognized for their stellar postdoctoral work, have received faculty appointments in leading universities in the US and Europe.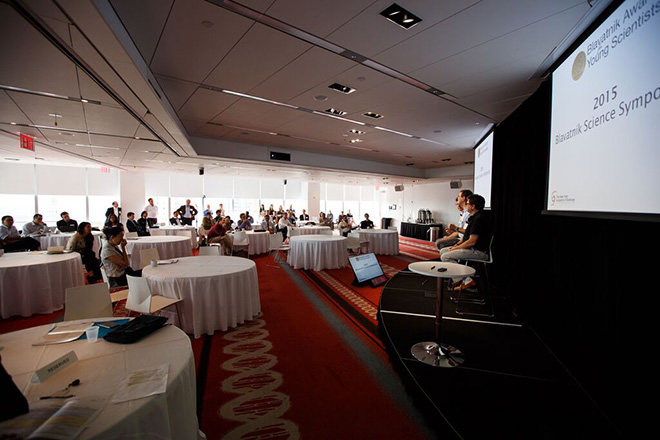 Several panel discussions took place around topics of particular interest to the Blavatnik Science Scholars, including: "Reinvention, Building Cross-Disciplinary and Multi-Faceted Research Programs" moderated by New York Times columnist Carl Zimmer; "Latest Developments and Top Unsolved Problems in Artificial Intelligence & Machine Learning" with participation by Yann LeCun (Director of AI Research, Facebook/NYU), 2007 Blavatnik Regional Award winner Léon Bottou (Facebook), and 2013 Blavatnik Regional Award winner David Blei (Columbia University); "Commercialization and Entrepreneurship in the Blavatnik Science Scholars Community," moderated by Ellis Rubinstein; and a special presentation by 2014/2015 National Finalist Rob Knight (UCSD) and 2011 Blavatnik Regional Award winner Szabolcs Márka (Columbia University) on collaboration between their groups that had emerged from their meeting at a Blavatnik Science Scholars event.
On the evening of the first day, Carl Zimmer delivered his keynote address: "Cross-Talk: Telling Stories about Science" where he shared with the guests his rich experience of successfully communicating scientific research to diverse audiences via a variety of media channels.
eBriefing of the event, which includes meeting summary, media from the presentations, information about the speakers, and links to other related resources is available here.