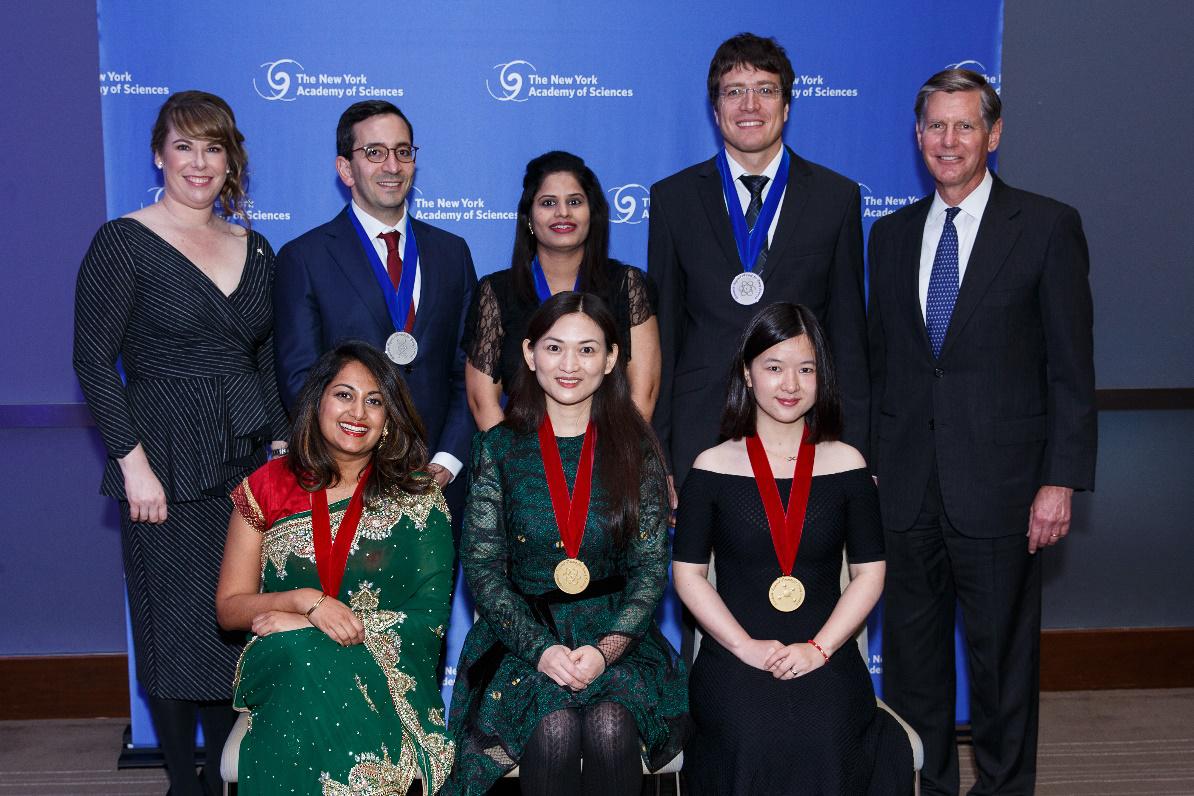 Celebrating New York, New Jersey, and Connecticut's most extraordinary postdoctoral scientists, the New York Academy of Sciences and the Blavatnik Family Foundation honored the three Winners and six Finalists of the 2018 Blavatnik Regional Awards for Young Scientists during the Academy's 15th Annual Gala held at the Conrad Hotel in lower Manhattan on November 5, 2018. This year's Gala, with the theme "Celebrate the Extraordinary", drew celebrated guests from across the region, including leading representatives from industry, philanthropy, academia, government, and members of the Blavatnik Regional Awards Jury.
Dr. Brooke Grindlinger, Chief Scientific Officer of Scientific Programs and Awards at the New York Academy of Sciences, hosted the Blavatnik Regional Awards portion of the Gala's program. Mr. Peter Thorén, representing the Blavatnik Family Foundation, spoke briefly about the Foundation's work and their pride in the Blavatnik Regional Awards. The 2018 Blavatnik Regional Awards received 125 outstanding nominations from 22 academic institutions in the New York tri-state area. Many of the honorees' institutions, keen to show their support for their researchers, were represented in the Gala audience.
This year marks the first Blavatnik Awards year in which the jury selected a female Winner for each of the three disciplinary categories: Life Sciences, Physical Sciences & Engineering, and Chemistry. In celebration, Dr. Grindlinger commented, "We are so proud to support diversity in STEM [science, technology, engineering and medicine] and tonight we are proud that we can showcase the talent of these incredible women and encourage other young women to pursue science careers."
Mr. Thorén joined Dr. Grindlinger on stage to present each honoree with their medal. In the category of Life Sciences, Dr. Grindlinger introduced Finalists, Dr. Samuel Bakhoum, nominated by Weill Cornell Medicine but currently at Memorial Sloan Kettering Cancer Center, and Dr. Zhe Zhang from The Rockefeller University. 2018 Blavatnik Regional Awards Winner, Dr. Shruti Naik, nominated by The Rockefeller University but currently at NYU School of Medicine, gave acceptance remarks that spoke to the importance of celebrating diversity in science: "Discovery demands diversity. Having a diversity of perspectives is necessary for innovation…if we want to continue to solve biological puzzles we need to not just value differences but also cherish them on a fundamental level. " She thanked the Blavatnik Family Foundation for honoring her "as an immigrant, woman of color."
Next, Dr. Grindlinger introduced the Chemistry honorees: Finalist Dr. Niankai Fu of Cornell University and Finalist Dr. Priyanka Sharma, from Stony Brook University - the first Blavatnik Awards honoree from The State University of New York. 2018 Blavatnik Regional Awards Winner Dr. Lu Wei, who was nominated by Columbia University but is now working at Caltech, thanked the jury: "it feels wonderful and deeply encouraging that our work is recognized by the scientific community". She also gave credit to her mentors, 2012 Blavatnik Regional Awards Finalist Professor Wei Min and Professor Louis Brus.
In the third and final Blavatnik Regional Awards category, Physical Sciences & Engineering, two Finalists nominated by Princeton University were honored: Dr. Peter Schauss, now at University of Virginia, and Dr. Lucia Gualtieri. 2018 Blavatnik Regional Awards Winner Dr. Lingyan Shi of Columbia University, who also a carried out postdoctoral studies with 2018 Blavatnik Regional Awards Finalist Professor Wei Min, thanked both her postdoc advisors including Professor Min and Professor Robert Alfano for inspiring her and helping her to become a more confident scientist. Speaking about her research she added, "advances in new imaging technologies will enable scientists and medical doctors to visualize inside the human body much deeper and better, and will significantly enhance disease detection, diagnosis and treatment, which will make our lives much better".
Three short films were presented during the evening, each one showcasing the three honorees and their science in one of the disciplinary categories.
Life Sciences Honorees
Chemistry Honorees
Physical Sciences & Engineering Honorees
The evening concluded with Deputy Secretary-General of the United Nations and former Minister of Environment of Nigeria Ms. Amina Mohammed delivering the evening's keynote speech, focusing on the UN's 2030 Agenda for Sustainable Development and the critical role of scientists and engineers in meeting those goals.
The evening before the Gala, on November 4th, the Blavatnik Family Foundation hosted a cocktail reception at New York's Metropolitan Club in honor of the 2018 Blavatnik Regional Awards Winners, Finalists, previous honorees, and judges.