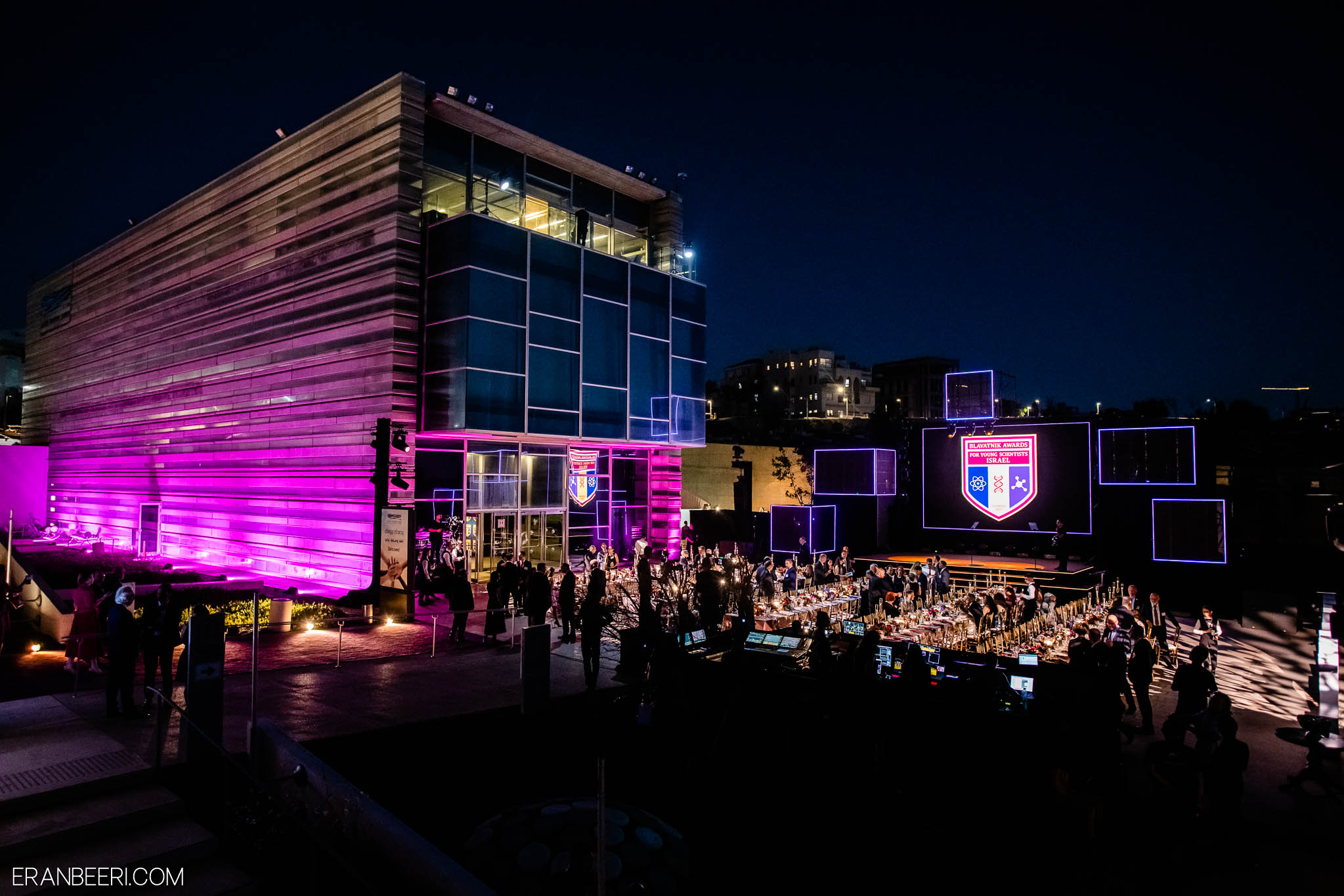 The Peres Center for Peace & Innovation served as the backdrop for the 2022 Blavatnik Awards in Israel Ceremony
The New York Academy of Sciences, in collaboration with the Israel Academy of Sciences and Humanities and the Blavatnik Family Foundation, hosted the fourth Ceremony for the Blavatnik Awards for Young Scientists in Israel on June 8, 2022. The event moved this year from Jerusalem to the spectacular Peres Center for Peace & Innovation in Tel Aviv. The event was attended by Israel's top leaders in business, academia and philanthropy. Michelin-starred TV celebrity chef, Assaf Granit, catered the Ceremony.
Israeli TV News Anchor, Tamar Ish-Shalom, from Reshet 13, served as Presenter of Ceremonies. The evening began with an inspired visual journey through science accompanied by a vocal performance by Israeli singer and actress Ester Rada. It was followed by a short film on the history of the Blavatnik Awards and an explanation of the Blavatnik Awards selection process.
The President of Israel, Isaac Herzog, gave a video speech congratulating the Laureates, and Prof. David Harel, President of the Israel Academy of Sciences and Humanities, gave opening remarks. Prof. Nick Dirks, President of the New York Academy of Sciences, also spoke, and commented on the importance of scientific collaboration across national borders. "It is this global collaboration we must nurture if we are to tackle our other global challenges, especially the warming of our planet." Dirks added "…another reason these Awards are so important, for they support the work of scientists who look beyond the walls of their labs, and beyond geographical borders."
Three of Israel's leading young scientists were honored during the evening as Laureates of the 2022 Blavatnik Awards for Young Scientists in Israel.
In Life Sciences, Prof. Noam Stern-Ginossar from the Weizmann Institute of Science was recognized for developing groundbreaking analytical tools to study viral gene regulation in cytomegalovirus. These tools include the use of ribosome profiling to generate high resolution maps of the genome, and have also been applied to characterize the genome of SARS-CoV-2, the virus that causes COVID-19.
In Chemistry, Prof. Menny Shalom, the first Blavatnik Awards in Israel Laureate from Ben-Gurion University of the Negev has developed new types of advanced materials for alternative energy sources. These low-cost materials are stable under harsh conditions and can be utilized in the development of solar cells, batteries, and fuel cells.
In Physical Sciences & Engineering, Prof. Ronen Eldan from theWeizmann Institute of Science has made groundbreaking contributions to high-dimensional probability, a mathematical subject that deals with datasets with a very large number of variables. He has solved long-standing, open conjectures in this area, and has developed techniques that have found wide applications across the fields of statistics and computer science. Prof. Eldan traveled to the event from Princeton, NJ, where he is currently on sabbatical at the Institute for Advanced Study.
Blavatnik Family Foundation Founder and Chairman, Mr. Len Blavatnik, came to the stage to congratulate and award each scientist with their medal. The Laureates each gave presentations on their work, explaining their award-winning discoveries to the audience. The evening also featured a performance by renowned Israeli rock singer and music producer, Aviv Geffen, who sang a modern rendition of the 1979 Supertramp song, "The Logical Song". Ceremony presenter, Tamar Ish-Shalom, closed the Ceremony with the Blavatnik Awards in Israel tradition of gathering the Academy Presidents, Laureates and Mr. Blavatnik on stage to make a toast to science in Hebrew, "L'Chaim; To Science!"