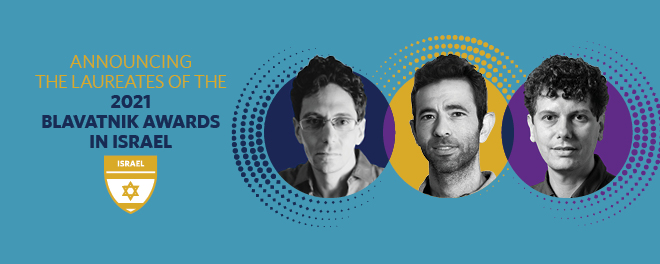 Three young scientists from leading research institutions in Israel will each be awarded US$100,000 for their groundbreaking scientific research
The Blavatnik Family Foundation, the New York Academy of Sciences, and the Israel Academy of Sciences and Humanities announced today the Laureates of the 2021 Blavatnik Awards for Young Scientists in Israel. This year's Laureates, who will each receive US$100,000, are:
Professor Ido Kaminer (Physical Sciences & Engineering)—Technion – Israel Institute of Technology

Professor Rafal Klajn (Chemistry)—Weizmann Institute of Science

Professor Yossi Yovel (Life Sciences)—Tel Aviv University
The Blavatnik Awards recognize outstanding, innovative scientists at the early stages of their careers for both their extraordinary achievements and their promise for future discoveries. The prizes are awarded to researchers aged 42 and younger for groundbreaking work in the disciplines of Life Sciences, Chemistry, and Physical Sciences & Engineering. The Blavatnik Awards in Israel sit alongside their international counterparts, the Blavatnik National Awards and Blavatnik Regional Awards in the United States, and the Blavatnik Awards in the United Kingdom.
The 2021 Blavatnik Awards for Young Scientists in Israel will be conferred, as pandemic restrictions allow, at a ceremony held at the Israel Museum in Jerusalem on August 1, 2021. The Laureates will join a cadre of young scientists from across Israel who have been honored by the Blavatnik Awards in Israel since their launch in 2017. In addition, the Laureates will become part of the international Blavatnik Science Scholars community, which, by the close of 2021, will total 350 young scientists from around the world. Each summer the Laureates are invited to attend the annual Blavatnik Science Symposium in New York City at the New York Academy of Sciences, where past and present Blavatnik Awards honorees from around the world come together to share new ideas and forge collaborations for novel, cross-disciplinary research.
"The passing year has demonstrated just how important groundbreaking science is," said Len Blavatnik, Founder and Chairman of Access Industries and Head of the Blavatnik Family Foundation. "It's imperative to encourage young scientists to venture broadly in their respective fields and to push the boundaries of scientific discovery. The achievements of these three outstanding Israeli scientists are testament to their brilliance, perseverance, and imagination—characteristics held by many young Israeli researchers who will continue to make remarkable contributions to science for generations to come."
Nicholas B. Dirks, President and CEO of the New York Academy of Sciences, said that "The 2021 Blavatnik Awards in Israel Laureates are an impressive group of scientific pioneers. On behalf of the New York Academy of Sciences, we are proud of the contributions that these young scientists in Israel are making to the global scientific community, improving lives for the better through their research. We congratulate them on their achievements and look forward to seeing what their future holds."
Professor Nili Cohen, President of the Israel Academy of Sciences and Humanities, said: "In the midst of a challenging year, we are extremely proud that our young scientists are venturing forward to new heights, and advancing scientific innovation and breakthrough. Together with the Blavatnik Family Foundation and the New York Academy of Sciences, we are delighted to honor these exceptional Israeli scientists with this prestigious Award."
During the nomination period for the 2021 Blavatnik Awards for Young Scientists in Israel, 37 nominations were received from seven universities across the country. Members of the Awards' Scientific Advisory Council, which includes Nobel Laureates, Professors Aaron Ciechanover and David Gross, along with Chairman of the Israel Space Agency and Chairman of the National Council for R&D for the Ministry of Science and Technology of Israel, Professor Isaac Ben-Israel, were also invited to submit nominations. Three distinguished juries composed of leading scientists representing the three disciplinary categories and lead by Israel Academy members, selected the 2021 Laureates.
About the Laureates
PHYSICAL SCIENCES & ENGINEERING:
Prof. Ido Kaminer, Assistant Professor, The Viterbi Faculty of Electrical Engineering, Technion – Israel Institute of Technology
The work of Ido Kaminer, PhD, Head of the Robert and Ruth Magid Electron Beam Quantum Dynamics Laboratory, has influenced fundamental physics research with real world applications by transforming our understanding of the quantum nature of light-matter interactions. New technologies developed in his laboratory open up the possibility of compact and tunable X-ray apparatuses for applications such as medical imaging and security scanning. He has also uncovered new aspects of the Cherenkov Effect—a burst of light seen when high-speed particles travel through gas, liquid, or solid—that was first discovered in 1934. The Cherenkov Effect was thought to be fully understood, but Professor Kaminer discovered hidden quantum features not previously identified by classical physics. This discovery led him to develop novel high energy particle detectors for particle accelerators such as the one at CERN.
CHEMISTRY:
Prof. Rafal Klajn, Associate Professor and Head of the Helen and Martin Kimmel Center for Molecular Design, Weizmann Institute of Science
Most man-made materials are intrinsically static, and thus not capable of undergoing change in response to external signals. The ability to react to external stimuli, such as light, heat, and touch, is fundamental to the existence and functioning of living organisms. Organic chemist, Rafal Klajn, PhD, has developed dynamic nanomaterials that are engineered to possess some of these "life-like" characteristics. For example, he has created cube-shaped, magnetic nanoparticles that are capable of self-assembling into complex double-helical materials in the presence of a magnetic field. These and other dynamic nanomaterials have potential applications in such diverse fields as water purification, energy storage, and catalysis.
LIFE SCIENCES:
Prof. Yossi Yovel, Associate Professor of Zoology, Tel Aviv University, Israel Young Academy member
Yossi Yovel, PhD, is working to bridge the gap between two of the most influential fields in biology—ecology, the study of animals in their environment, and neuroscience, the study of how the brain controls actions. He has helped to establish the new field of neuroecology, the study of how the brain controls behavior in a rapidly changing natural environment; this combination is crucial to our understanding of biological processes in the natural world. Professor Yovel uses bats to study behavioral responses. He is a leading expert on the use of bats in scientific research and studies their use of echolocation to perceive and navigate through the world as a model for how the brain integrates sensory information to guide behavior. He has developed novel miniaturized GPS and other devices that monitor the behavior of freely moving bats in the wild. This work provides broader insight into group behaviors, integration of sensory information in the brain, and real-time decision making. Yovel also applies his understanding of bat echolocation in a range of robots. Yovel has made his technology freely available; it is used in field work internationally and has the potential to aid in engineering acoustic control of autonomous vehicles.
About the Blavatnik Awards for Young Scientists
The Blavatnik Awards for Young Scientists, established by the Blavatnik Family Foundation in the United States in 2007 and independently administered by the New York Academy of Sciences, began by identifying outstanding regional scientific talent in New York, New Jersey, and Connecticut. The Blavatnik National Awards were first awarded in 2014, and in 2017 the Awards were expanded to honor faculty-rank scientists in the United Kingdom and in Israel. By the close of 2021, the Blavatnik Awards will have awarded prizes totaling US$11.9 million. Of all the Award recipients, 61 percent are immigrants to the country in which they were recognized and hail from 47 countries across six continents. For updates about the Blavatnik Awards for Young Scientists, please visit www.blavatnikawards.org or follow us on Twitter and Facebook @BlavatnikAwards.
About the Blavatnik Family Foundation
The Blavatnik Family Foundation is an active supporter of world-renowned educational, scientific, cultural, and charitable institutions in the United States, the United Kingdom, Israel, and throughout the world. The Foundation is headed by Len Blavatnik, a global industrialist and philanthropist and the Founder and Chairman of Access Industries, a privately-held industrial group based in the US with global strategic interests in natural resources and chemicals, media and telecommunications, real estate, venture capital/technology, entertainment, biotechnology, and selected external funds.
For more detailed information, please visit: www.accessindustries.com or www.blavatnikfoundation.org.
About the New York Academy of Sciences
The New York Academy of Sciences is an independent, not-for-profit organization that since 1817 has been committed to advancing science for the benefit of society. With more than 20,000 Members in 100 countries, the Academy advances scientific and technical knowledge, addresses global challenges with science-based solutions, and sponsors a wide variety of educational initiatives at all levels for STEM and STEM related fields. The Academy hosts programs and publishes content in the life and physical sciences, the social sciences, nutrition, artificial intelligence, computer science, and sustainability. The Academy also provides professional and educational resources for researchers across all phases of their careers. Please visit us online at www.nyas.org.
About the Israel Academy of Sciences and Humanities
The Israel Academy of Sciences and Humanities is the preeminent scientific institution in Israel. It was established by law in 1961, and acts as a national focal point for Israeli scholarship in all branches of the sciences, social sciences, and humanities. The Academy comprises 132 of Israel's most distinguished scientists and scholars who operate in two sections―the sciences section and the humanities section. It is tasked with promoting Israeli scientific excellence, advising the government on scientific matters of national interest, publishing scholarly research of lasting merit, and maintaining active contact with the broader international scientific and scholarly community. For more information about the Israel Academy of Sciences and Humanities, please visit: www.academy.ac.il.
For further information, please contact:
Liel Edry: liel@kamir-e.com +972-50-8655-305
Alon Brandt: alon@kamir-e.com +972-58-4239587
For US Inquiries, please contact:
Kamala Murthy, Blavatnik Awards Communications Manager Kmurthy@nyas.org +1-212-298-3740